Cuzco was the capital of the Inca empire. After falling in the hands of the Spanish, the last remaining fighters looked for a safe refuge in the Vilcabamba mountain range. Here they established another capital, however, the access to the mountain range was controlled from another city: Choquequirao, 'the cradle of gold'.
Nowadays the ruins of Choquequirao can be visited, but only after a hard two-days walk. Being difficult to reach kept it outside the typical touristic route, so don't expect to encounter the crowd you see in Machu Picchu! Although the situation is slowly changing thanks to the organized groups. Moreover, there is a project to build a cableway that would reduce the time to reach Choquequirao to 15 minutes. And then the magic of having a whole Inca city pretty much for yourself will be definitely gone.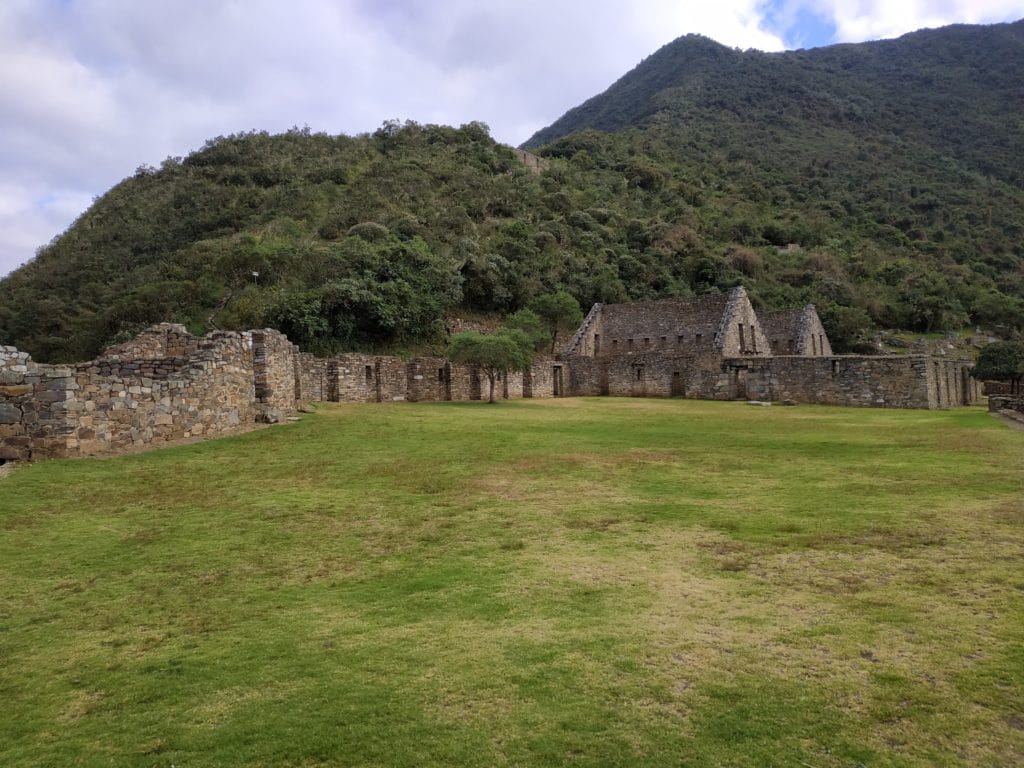 The challenge, and beauty, of the Choquequirao trek, as well as the idea of an impending massification of the visit, made us decide to do it. We started right after the Salkantay trek, just taking a couple of days for the preparations.
Preparations for the Choquequirao trek
Along the trek there are no hotels, only camping grounds that charge 5 soles per night. It is therefore mandatory to bring a tent. Some of the nights are also spent at around 3000 m, so a warm sleeping bag might be useful.
Pretty much at every camping spot there is also the possibility to buy breakfast, lunch and dinner. A big exception to that is the Choquequirao camping, the closest to the ruins. We ended up bringing also a kitchen and stoves because we really wanted to sleep there so. We used them all along the trek, together with the food we bought in Cuzco. It's up to you to decide if the additional weight is worth it or not. The breakfasts along the road cost around 4 soles, while the other meals cost 10 soles.
We did not have any of the equipment above so we decided to rent it. There are several shops where to rent gears in Cuzco but we decided to use the equipment of Speedy Gonzalo. They have very good prices and charge by the trek, not by the day, which gave us more flexibility for the coming back. Renting two sleeping bags and air mattresses, a tent for two, a kitchen stove, plates and pots plus gas (this last one needs to be bought) for the whole trek costed us a total of 184 soles. We were completely satisfied with the quality of every piece of equipment.
Overview
The Choquequirao trek is very easy to follow: there is only one path and no significant deviations. Starting from the Capuliyoc viewpoint, it makes its way down the valley until the river Apurimac and then up to the other side to reach the ruins. That's it. Although, hidden behind this simple description there are, as described below, many more difficulties.
How to get there
You can get to Capuliyoc, the starting point of the path, on your own. At the bus terminal in Cuzco, look for companies that can leave you in "Ramal de Cachora". We found two of them, Ampay and Bredde. They both leave at 6 am and cost 20 soles. We took Ampay, although the Bredde buses looked a little bit better. In any case be sure to tell the driver where you want to go down.
Once you are at Ramal de Cachora you will find many taxis waiting. Now you have to face a choice: either starting your walk from Cachora or from Capuliyoc, saving some kilometers. The walk from Cachora to Capuliyoc passes through a wood at the beginning, but is mainly along the road. We decided to skip this first part and took a taxi until Capuliyoc. We shared it with another couple, spending 15 soles per person.
Once in Capuliyoc, be sure to buy the ticket to enter the ruins (it also include the entrance to the last campsite). It can be bought at the last house before the path and costs 60 soles.
If you want to make your walk a little easier you can rent, here or in Cachora, a mule and a horsemen. Apparently a horsemen costs up to 50 soles per day, the same amount should be considered per each mule. We decided to do without but, if you are not used to walking with a backpack, we would recommend to go with a mule.
Day 1: Downhill
We arrived in Capuliyoc at around 11. We started walking as soon as we bought the tickets. The path goes down quite quickly: steep switchbacks are followed by gentler slopes, stairs and big rocks. All the descend is done under an unforgiving sun. There is no shade whatsoever so remember to put your sunscreen and drink often.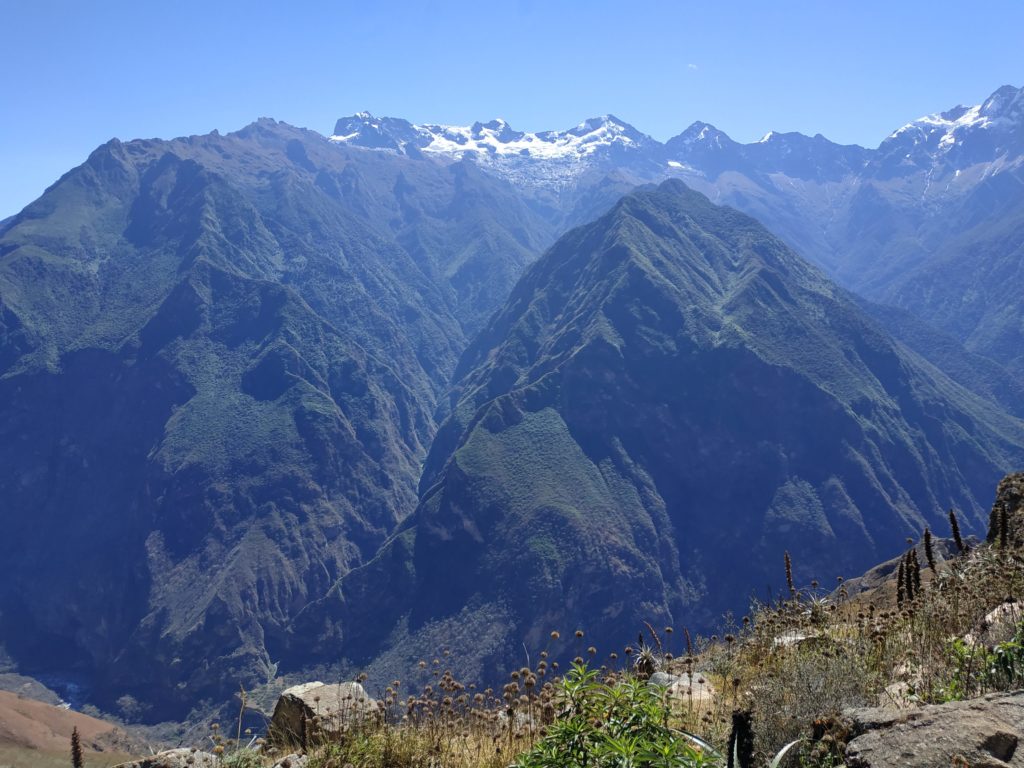 After four kilometers you'll reach Cocamansana, the first camping along the way. Be sure to fill your water bottle, refresh a bit and also to put some insect repellent: horseflies bites are not fun.
Continuing down you'll realize that the temperature is slowly raising, as well as that the little bit of wind that there was at the top is disappearing. After another hot and dry 3 km you'll reach Chiquisca. Here we had a late lunch, it is also possible for you to buy some food or stop for the night if you want. We decided to continue for 2 km more and reach the river.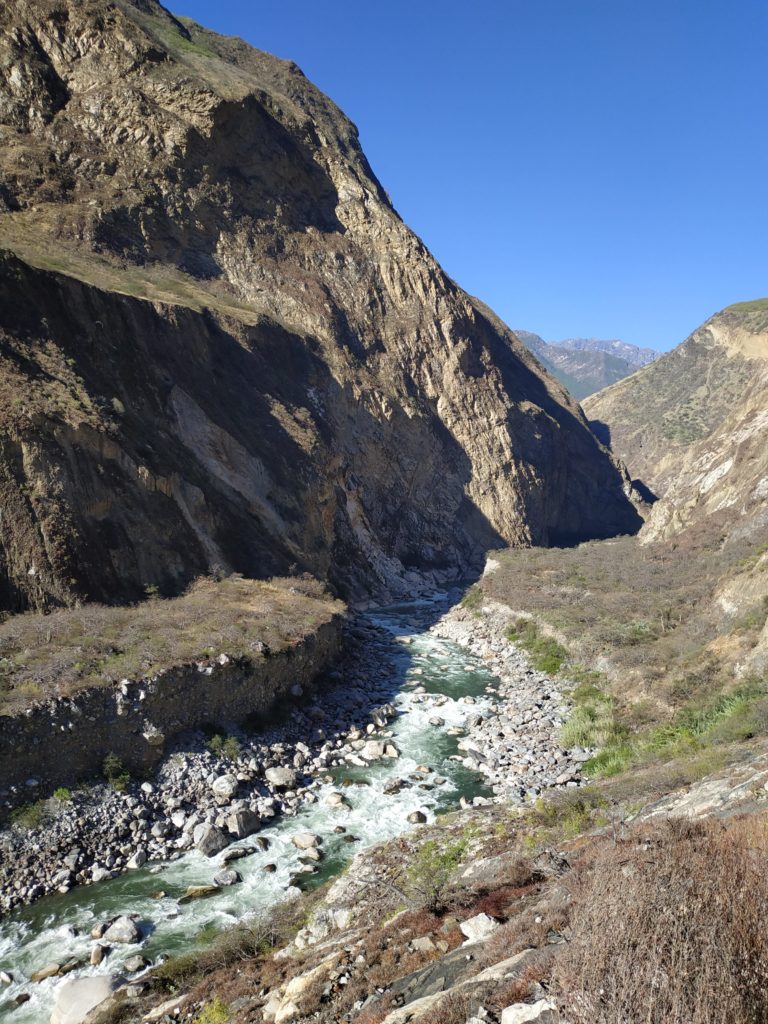 Just before the bridge over the river Apurimac there is another camping called Playa Rosalina. We were so tired from our early wake-up and, most of all, from the heat that we decided to spend the night there. The temperature unfortunately does not go down that much during the night and there are a lot of mosquitoes and other biting insects. If your legs feel like it, it would be better for you to continue and sleep in Santa Rosa. Although, that would mean adding another two-to-three hours of steep ascend to the four hours of descend you just did, so think about it.
Day 2: Reaching Choquequirao
To try to escape the heat we woke up at 4 am to start walking at 5 am. Close to the river the heat was unbearable in any case but, as we were going up, the temperature started going down pretty quickly. At some point, just before Santa Rosa Alta, we almost thought about putting a sweater. The sun illuminates this side from 11 am (in winter) and there is much more vegetation, so you also have quite a lot of time in the shade.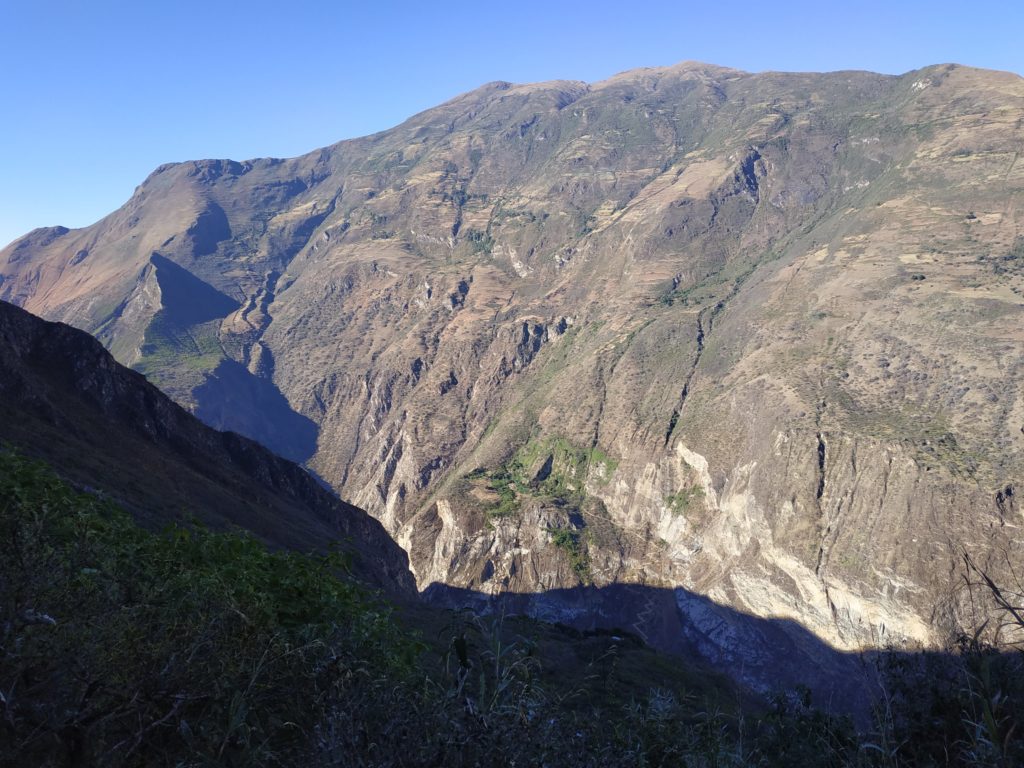 The path on this side is steep, even steeper than on the other side. There are also quite a lot of false summit along the way that can lower your morale. Just continue doing those switchbacks until you reach first Santa Rosa Baja and, 20 minutes later, Santa Rosa Alta. In both places there is a camping, although the one in Santa Rosa Alta is the house of a woman that runs also a camping in Marampata and might not be there to open it, or to prepare food, so beware.
After a rest in Santa Rosa we continued walking for another two hours to reach Marampata. Marampata is a village with several places where to sleep or eat.
We had a nice early lunch in one of the last houses of the village to then continue to the camping below the Choquequirao ruins. Remember that the camping is free (well, included in the price of the entrance ticket) but it's not possible to buy any food there. We felt like we were almost done but to reach this last camping you still have to walk for an hour and a half of continuous ups and downs.
Along this last part we started seeing the true extension of the ruins: the buildings on top, the huge terraces below. It was a huge emotion!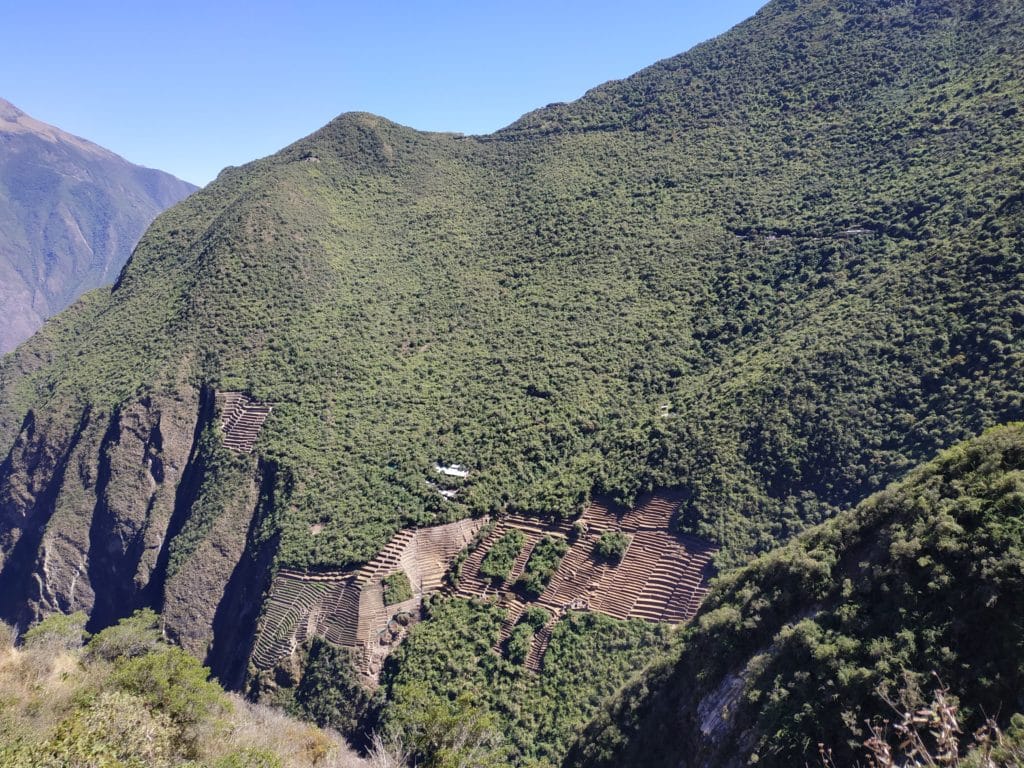 We arrived at the camping, set our tent and went directly to explore the ruins. In twenty minutes we were in Pikiwasi, a housing complex. From there we continued to the priest house (casa sacerdotal) and the Ushnu, a oval and barren ceremonial hilltop surrounded by a small wall. From the Ushnu we had a fantastic view of the main square.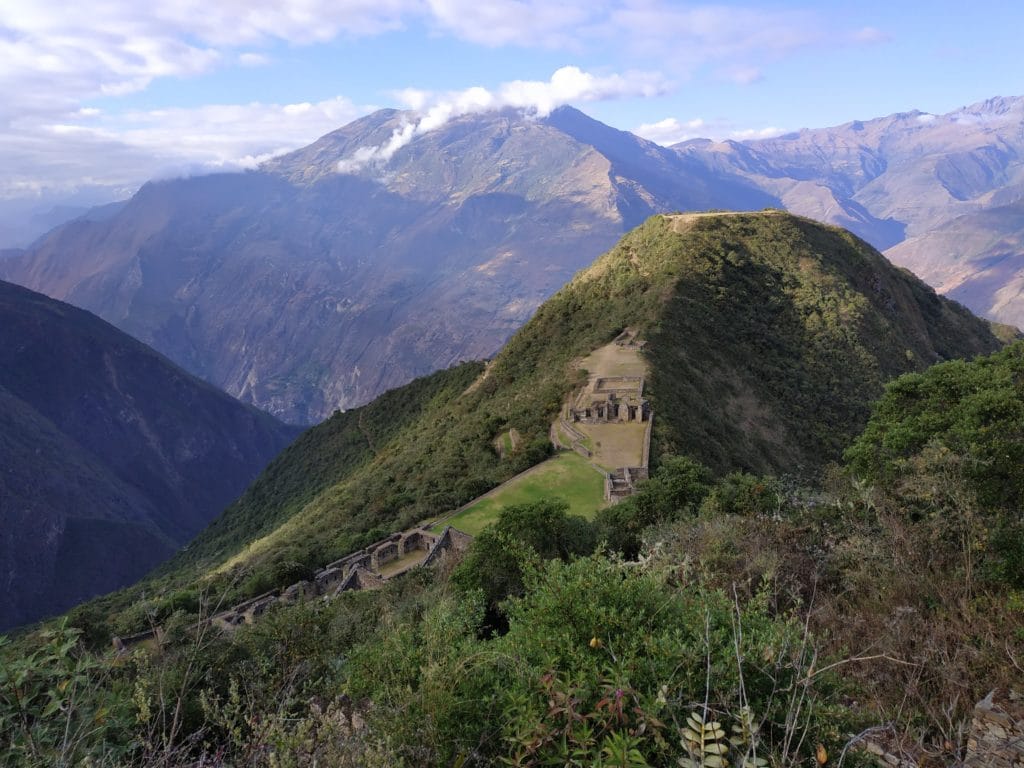 Once we reached the main square we decided to visit the lamas terraces. These terraces are famous for the presence of lamas and other shapes, made by using white stones in appropriate places. To go there, we had to walk downhill, for a total of one hour more. Once we reached the terraces we decided to stop, for the health of our legs and because closing time, 5 pm, was close. But if you have the time and energy, you can continue until a viewpoint in front of the terraces. The best time to visit this part of the ruins is definitely in the afternoon, when the sun shines directly on it.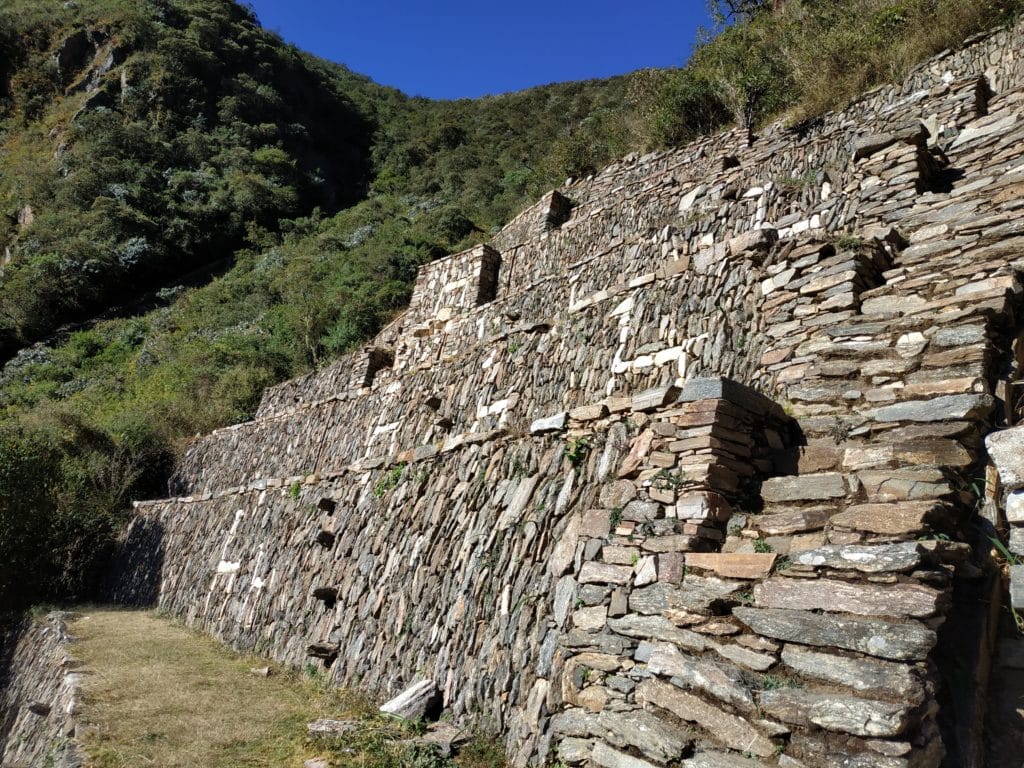 We then returned to camp to leave the rest of the exploration for the following day. We had set the tent at the perfect spot to have an amazing view on the valley which we really enjoyed while resting after such a long day.
Day 3: Choquequirao Ruins and return
At 7 am, the opening time, we were in the main square, alone. We had the time of exploring this part as well as the warehouses (qolqas), aqueduct and huge stairs in the upper sector. But we did not visit all the parts of the sites: some of them are quite far and we needed to save some energy to come back.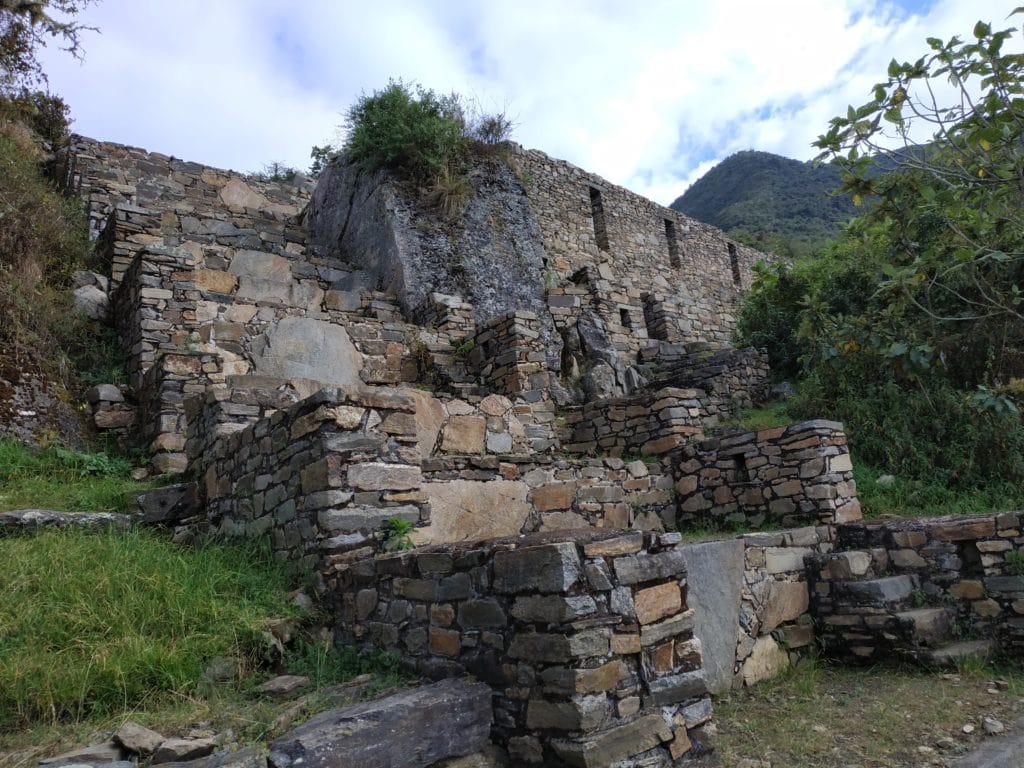 We then started the way back, stopping in the last Marampata camping, owned by a woman named Julia, to have lunch. Talking with her, we mentioned we wanted to stay in Santa Rosa Alta. She then said it is her house, ask to pay her right away and allowed us to enter and set camp. She never came down, so if you don't have food with you we wouldn't recommend to stay there.
We ended the day quite early in Santa Rosa Alta for two main reasons: we did not want to push too much before the last day, and we did not want to sleep again in Playa Rosalina.
Day 4: Success
We woke up again at 4 with the idea of sleeping in Cocamansana for the night. The walk to the river was quite fast: the path is so steep that your legs just ask you to go fast. Be careful though to not trip on some loose stone in the dark.
In 1 hour we were at the bridge and an hour later we were having breakfast in Chiquisca. Even if the sun was not out yet, in those last two kilometers uphill we sweated profusely. After Chiquisca our luck changed a bit and some clouds covered the sun. In 2 hours, at 9 am, we were in Cocamansana. We both did not want to stop that early so we decided to finish it that day and continue until Capuliyoc.
It was really hard, especially the last hour. The legs weighted tons and the end seemed always too far away. But, around 1 pm, we finally made it! We were so proud of ourselves! We finished the Choquequirao in 4 days!
How to come back
If you're in a hurry, until lunch time you can find some taxi that would bring you directly to Cuzco. They offered 250 soles for the both of us, which we could have lowered to 200, even less if there were more people in the car.
We were one day ahead of schedule so we decided to stay in Capuliyoc. Here you can either set up your tent (5 soles) or, as we did, rent a nice wooden lodge with view on the valley (15 soles per bed). The owner is super nice and tries to help you in any way he can. After a quick cold shower, we rested on the swings and hammocks.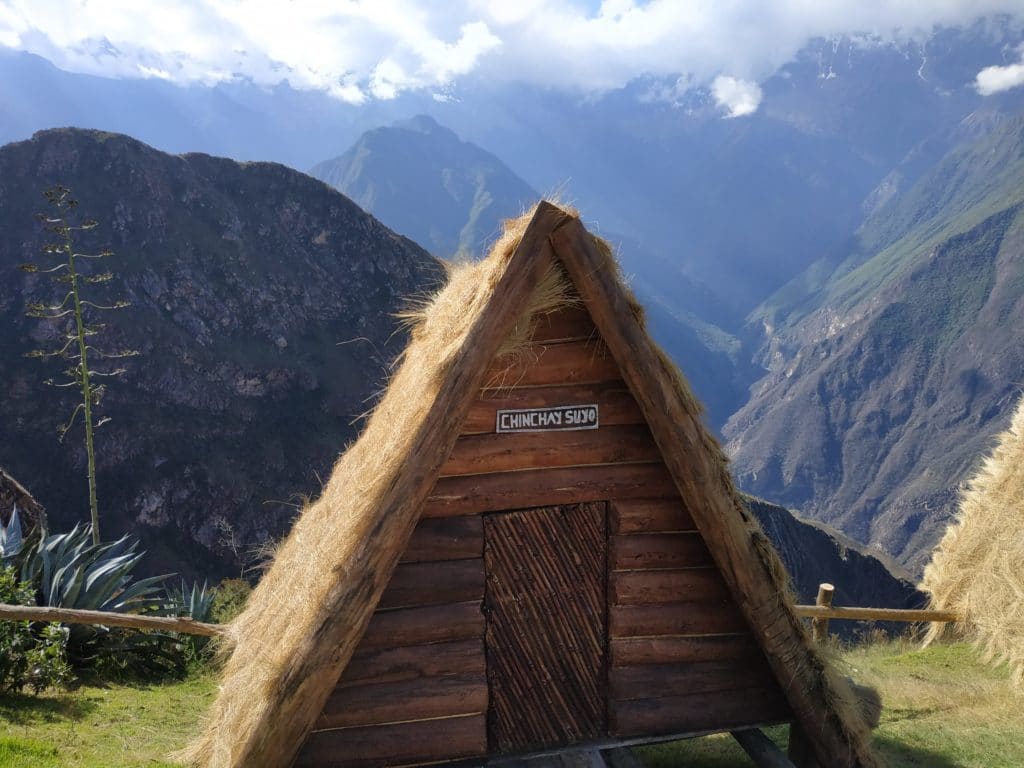 The morning after, we were ready at 8 am as buses that bring new tourists and get back to Cuzco arrive around that time. You can try to negotiate a passage with some of these touristic buses. The starting price for us was 60 soles per person, which we lowered to 50. You can probably go down to 30 or less, depending on how big the bus is and how many people are on board. And like this, in 4 hours we were in plaza de Armas.
To not miss any of our adventure, subscribe to our monthly newsletter!