Have you ever seen dinosaurs footprints? Done speleology? And climbed big rocks at the bottom of a huge canyon? We found a place where you can do all of these! It is called Torotoro National Park, in Bolivia. We went there for Caroline's birthday and it was amazing ! Let us tell you a bit more about our experience.
How to get to Torotoro?
Torotoro is a remote place and getting there requires a bit of time. It is located 4 hours away from Cochabamba, all on a rocky, bumpy, and dusty road. You can either go with a normal bus or with a colectivo, a kind of shared taxi. The normal bus is quite comfortable but there is only one per day, at 6 pm, so it might not fit your plans. On the other hand, the colectivo stop is situated a little bit far away from the main bus terminal but they'll depart as soon as they are full. For us, it took about 40 minutes before the colectivo filled up.
How to go on an excursion?
Once you arrive in Torotoro, you need to buy the entrance to the park (100 bolivianos) that will be valid for 4 days, which is more than enough. Then, for each excursion, you will need to hire a guide. To protect the area, it is only possible to visit the park with a guide. But no worries, it doesn't cost a lot (100 bolivianos for ½ day) and you can group with up to 6 people to lower the price.
Every morning, around 7 am, people gather at the guides' office, to form groups hire a guide. If you stay several days, they will make sure you have the same guide everyday. We did two days of excursion with two different guides but only because we changed group. We weren't sure to find other people to create a group for the second day and were ready to pay full price but it turns out that, even in low season, there are enough tourists.
The guides
At first, we were not really happy at the idea of visiting everything with a guide but soon we realized it was a perfect way to preserve the park. As a matter of fact, we almost never followed any established path. As a result, you feel much more like a adventurer and it means less maintenance and a source of revenue for the locals. In the end, it is a win-win situation!
On our first day, we were lucky to have a woman guide which is not very common yet since in those remote areas in Bolivia, most women just stay at home and take car of the kids. But what was even cooler is that our guide was also the first Cholita guide. Which mean she was wearing traditional clothes and was speaking Quechua with the people around. Fortunately, with us she was speaking Spanish.
What are the excursions to do in Torotoro
All excursions are half day excursions and, by joining two together, you can create full day excursions. Here are the two days we did :
Day 1: Ciudad de Itas and Umajalanta cavern
Both excursions are close to each other and you need a ride to get there. For this reason a lot of people, like us, visit them both in the same day. The cost of the transportation for a full group, the whole day, is 330 bolivianos.
Ciudad de Itas
The Ciudad de Itas is located at an hour drive from the village, at 3800 m. The access to it costs an additional 5 bolivianos per person. It's not a real city, but rather a complex of natural caves resembling the interior of different buildings. When we left the car, our guide Maria started trotting up. Quickly it became hard to follow her, so much so that we had to ask her to slow down. She is used to walking around this area and didn't have any trouble with altitude, as opposed to us… Soon, she started to show us big rock with animal like shapes. We saw fishes, turtles and even a dinosaur, it was quite nice!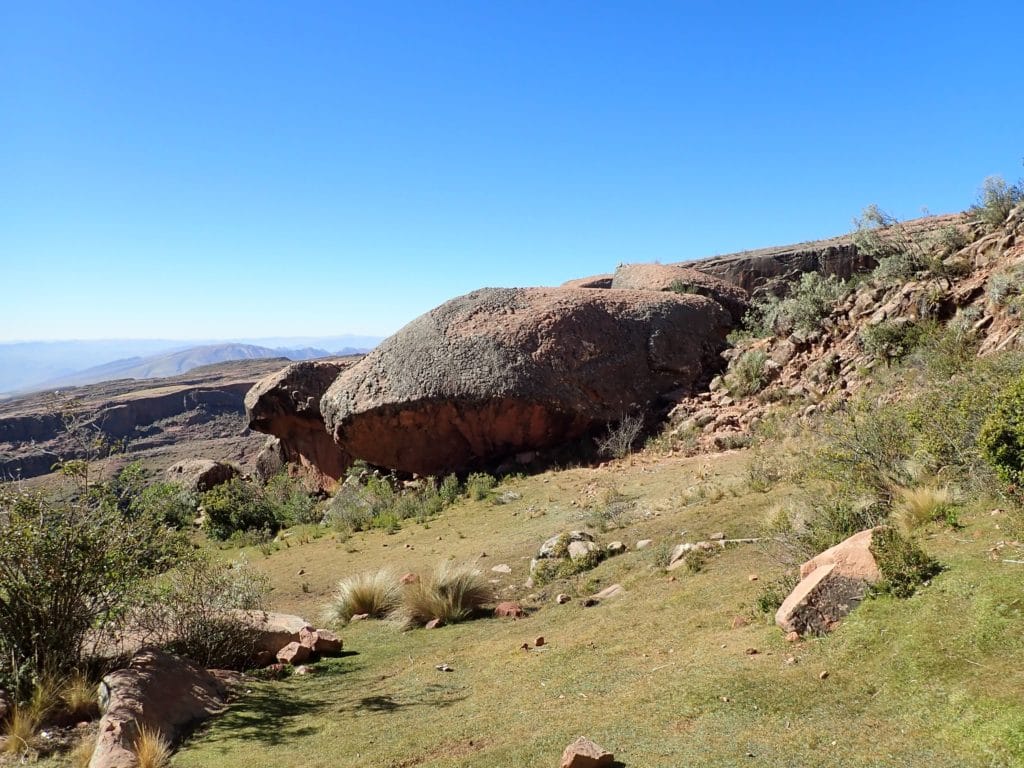 We then descended between the rocks and arrived in several caves. There used to be only one way in those caves and she told us thieves were using them to store their treasures! Some of the caves where as big as a church!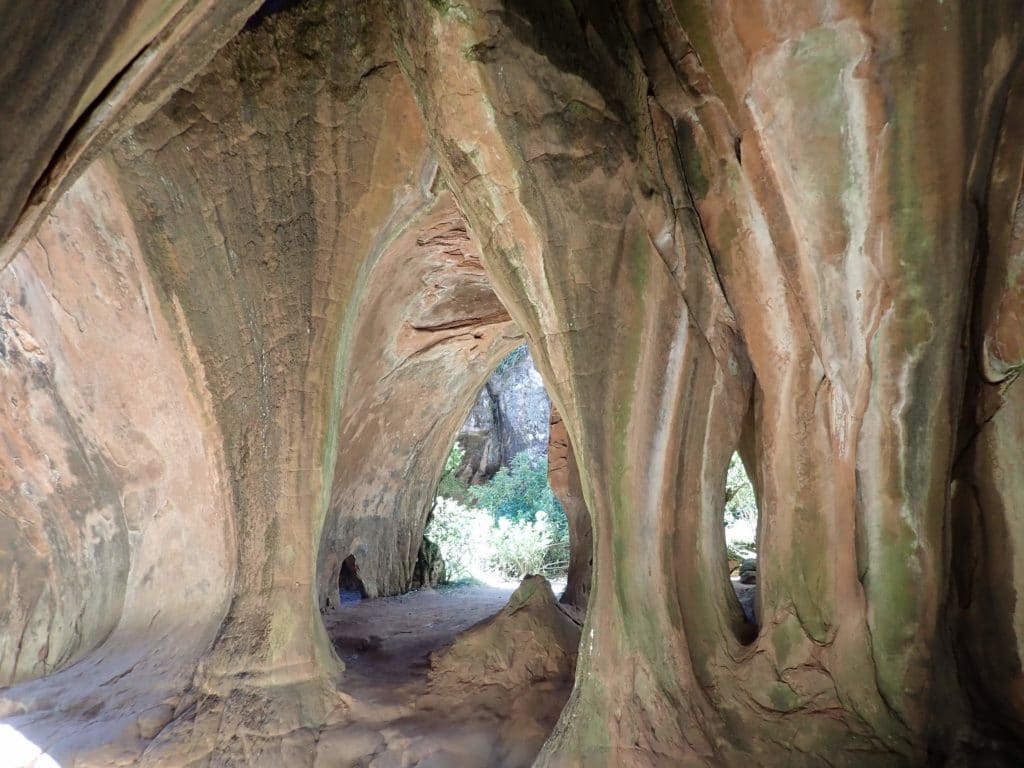 After leaving the place, we saw some pre-Inca painting on the rocks representing a man, a snake, and the sun. Apparently they were painted using blood…
After all this, we started climbing the rocks to get back to our car. At one point, it really felt like we were doing a via ferrata, except we didn't have any protections… Once up, we realized that we were now walking above the caves we had just visited. And the panorama from up there was incredible.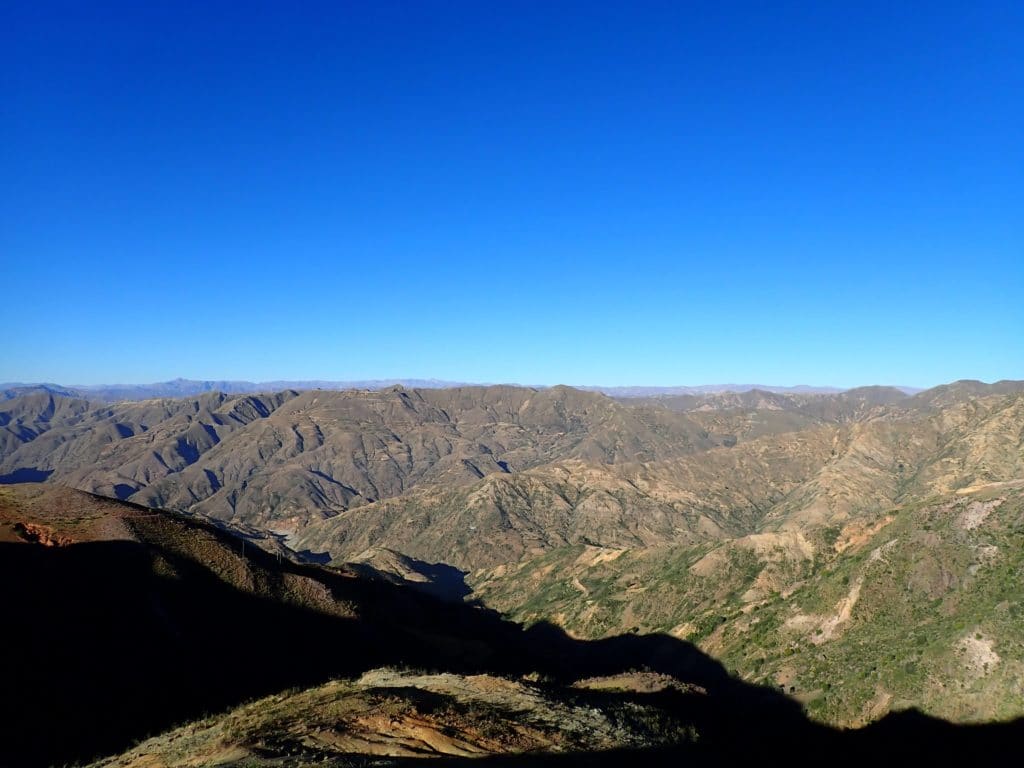 Umajalanta Cavern
Soon, we were back in the car for another half hour ride to the Umajalanta cavern. We had lunch and started to get ready to enter the cavern. Since you have to crawl, climb, slide and so on, you have to leave the backpack in a locker at the entrance. It is recommended to wear long pants and sleeves, not because it is cold but to not scratch your skin. At the entrance, you also have to rent a helmet with a frontal lamp (12 bolivianos per person, you usually pay it in the morning when hiring the guide). It is mandatory but, trust us, the helmet is really useful.
As soon as we arrived in the cavern, our guide showed us a rope we had to use to go down. And so the adventure started! After 5 minutes we started to crawl, squeeze into small spaces, use other ropes, and slide on our butts. With a little bit of imagination, we soon started to see some cool stuff in the stalactites, like a concert room with a piano, a virgin and baby Jesus, and a Christmas tree.
At the lowest point of the cave, there is a small lake with blind catfish. We where glad to see that but then we knew we still had to go back all the way up and we already started to feel a bit tired. Fortunately, the coming back is not as demanding as the going. We still had to use a lot of ropes and walk minding our head to not hurt our head but soon we started to see the sky again.
Altogether, we spent 1h30 inside the cave. We both loved it but we wouldn't recommend it to any claustrophobic or really unfit persons. A nice pair of shoes that does not slip easily is also highly recommended.
Day 2: Torotoro Canyon and the Chiflon
A lot of people that don't have much time usually only do a half day excursion on the second day so they can take a colectivo back to Cochabamba in the afternoon. Since we had time, we decided to do other two excursions. The Torotoro canyon and the Chiflon waterfall are quite close to each other so it is easy to visit both in the same day.
Torotoro Canyon
The visit started directly with some dinosaurs footprints. There where quite a lot of herbivore footprints and they were really easy to spot as they are quite big. Our guide explained us about how to differentiate the dinosaurs footprint and how high we think they were (up to 15 m!) given the depth and distance of the footprints. Right after, we started to see also some footprints of carnivores. We were really excited and felt like explorers.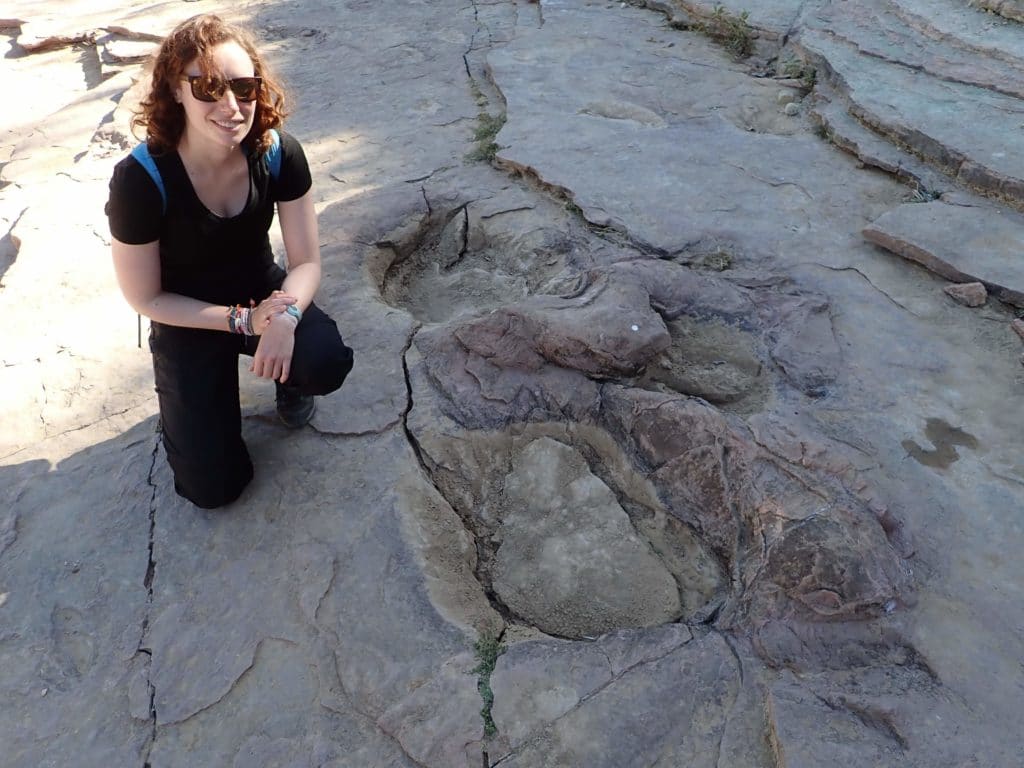 After that, we started to walk in what used to be a river. We could still see some dinosaurs footprints from time to time and slowly, the river bed began to be more and more deep until we arrived at the beginning of a huge canyon. The view was impressive and then we realized that the falls we wanted to see were at the very bottom of the canyon, 365 m below us…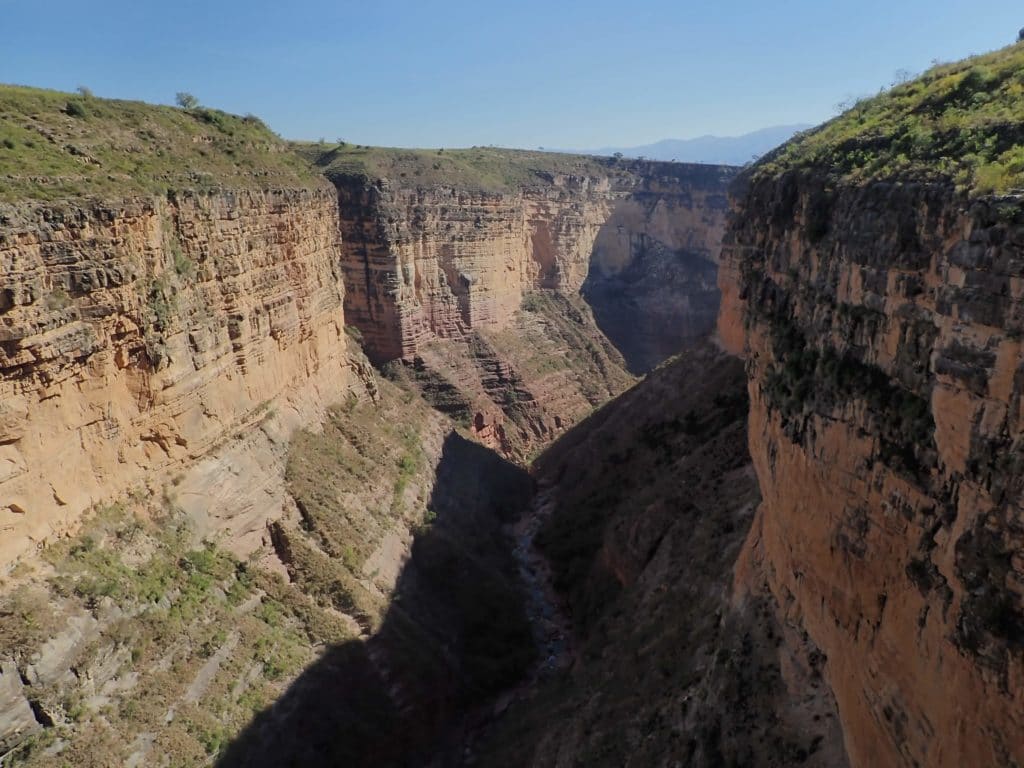 El Vergel
Quite soon we started to walk down stairs. The guide announced 700 steps to arrive to the falls. The stairs where quite steep and at the edge of the void. Not really nice if your are afraid of height. But once you are down, the falls of El Vergel are beautiful. You can even swim there (although the water is quite cold) and it is perfect to rest for a bit.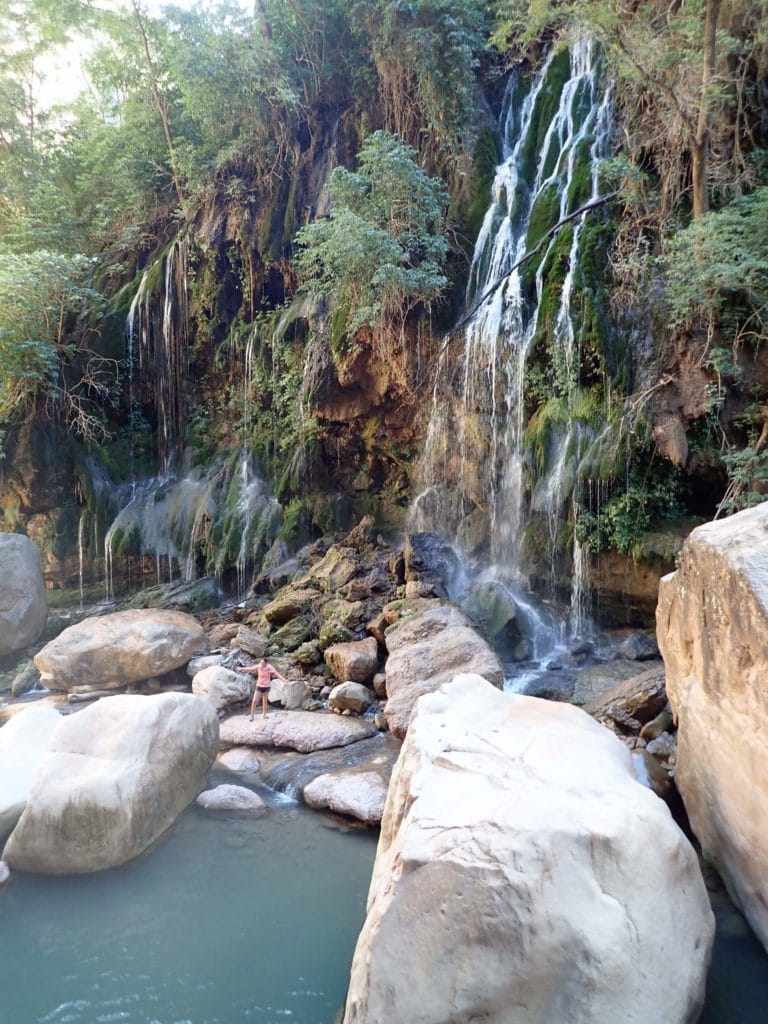 Since in our group we all found the water too cold to swim, our guide offered to show us another spot where we could swim with a water a liiiitle bit warmer. What he didn't say at the beginning, is that, to get there, we would have to climb the big rocks at the bottom of the canyon. Once again, we felt like in a via ferrata, but still no protection. It wasn't easy but since we both really like to climb, we really enjoy that part of the day.
We finally arrived at the cool spot which made all the climbing really worth it. After a quick dive in the water and lunch in the sun, we started the way back up. It involved a lot more of climbing but the good news is that we were so focused on how to climb that the going up was done before we realized it. Once again, the view was amazing.
El Chiflon
We thought we were pretty much done for the day but the guide had more in stock for us! He brought us to a tunnel behind the Chiflon, a narrow but tall waterfall. At first it looked like a normal cave but at the very end, we could see some light. We had to crawl to get out, but after the cavern we did the day before, it was nothing too complicated for us.
The last stop of the day was to see some last dinosaurs' footprints. There was a huge plane with many steps and we just started to walk among them. The guide just asked us to not step on them which was a bit hard given how many there were. The footprints were numbered so we could follow the path of the different dinosaurs. It was an amazing thing to see.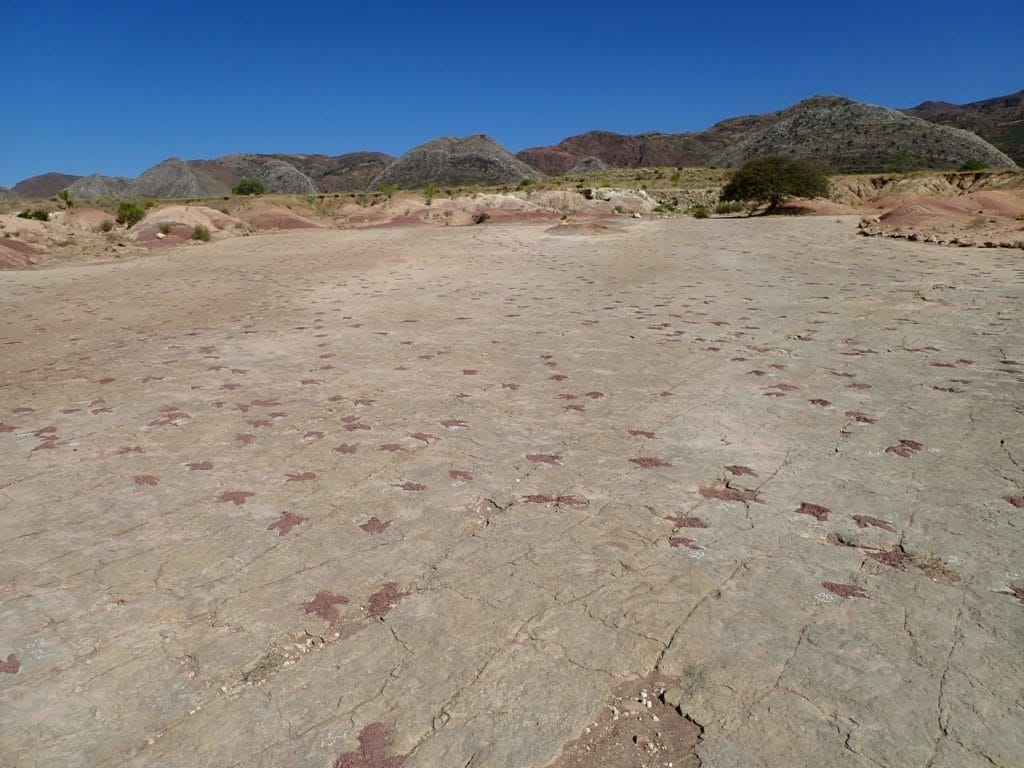 Other excursions
We decided to stop our exploration of the area there but there are more excursions that you can do if you have the time and energy.
Las siete vueltas
Another half day excursion where you get to see some marine fossils and get to see some nice view point on the valley.
Museum Pachamama Wasi
In the village of Torotoro you can visit also a small museum. It's a private house, the owner of which collected rocks all his life. The entrance is 10 bolivianos. Since we had time we went but we wouldn't recommend it. It is really small and not so interesting unless you are really into rocks.
A nice surprise
Torotoro ended up to be so much better than what we expected. It was a really nice surprise which was perfect as we were there for Caroline's birthday. We liked it so much also because not so many people know about this place and, if tourism continues to grow, it might change quickly in the years to come (like walking among the footprints…). So hurry up and visit this amazing place before it changes!
To not miss any of our adventure, subscribe to our monthly newsletter!