While preparing our trip in Latin America, we did not really know what to do in Colombia. We didn't have a travel guide to help us as we had for the other countries but we had the opportunity to speak with several Colombians we met in Paris. They all told us that one of the things we couldn't miss was the Eje Cafetero (the coffee region). Paolo being a big fan of coffee, we decided to spend a full week there.
The region is quite big, with a lot of places to see of which we managed to see only a few.
Salento
Our first stop was in the small city of Salento. It is the place where most people stay as it is somewhat central in the region and from there it is easy to reach all the other things to see. The city is small but really nice and colorful. But most of all, it is surrounded by coffee plantations.
Before starting to explore the region, you should definitely walk a little bit around the city. You can admire the colorful houses, all different from one another, and head to the mirador for a nice view on the valley. And don't forget to stop for a coffee in one of the many coffee places. After all, isn't that why we come to the coffee region in the first place?

Filandia
Not far from Salento, you can visit another small town with really colorful houses, Filandia. It is smaller, but also less touristy and more authentic. You can easily go there for the day from Salento. You just have to take a Jeep from the main square (also known as plaza de Bolivar).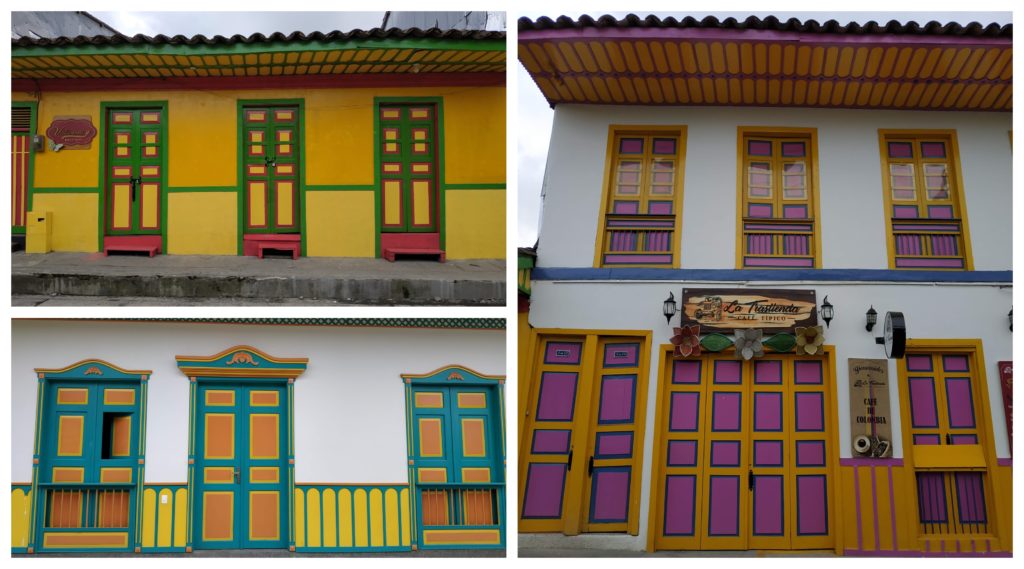 Valle del Cocora
A must do when you are in the region, is to go and see the wax palm trees. They are really tall palm trees, and you find them almost only in this region of the world. They are protected to prevent overexploitation and any threat to the endemic species depending on it. The most famous way to see these beautiful and endangered palm trees is to visit the Cocora valley.
To go there you just have to take a jeep from the main square, like to go to Filandia. They have a time schedule but they also just leave as soon as the jeep is full. Since it is one of the main attractions, there are always plenty of jeeps but we recommend to go early to avoid the crowd.
Once you arrive at Cocora Valley, there are two connected tracks. The left track leads you directly to the palm trees whereas the right track passes first by the hummingbirds' house. If you like walking, you can do a nice 4-hour hike on a loop, starting from one point and finishing with the other.
Palm trees
We decided to start the loop with the palm trees since we were told it gets very crowded later in the day. As we arrived early, we had the path pretty much for ourselves and it was as impressive as we imagined. The trees seemed never ending. Apparently they can reach 80 m! You have to go a bit up but the climb is really worth it as you get a really nice view on the valley with all the palms. After that you can either decide to go back or to go up a bit more and continue the loop. At some point, you arrive to a farm where you can stop and take a cup of coffee before starting the way down a sloppy path. When you get to that part, it is important to go carefully as it can get really slippery if wet.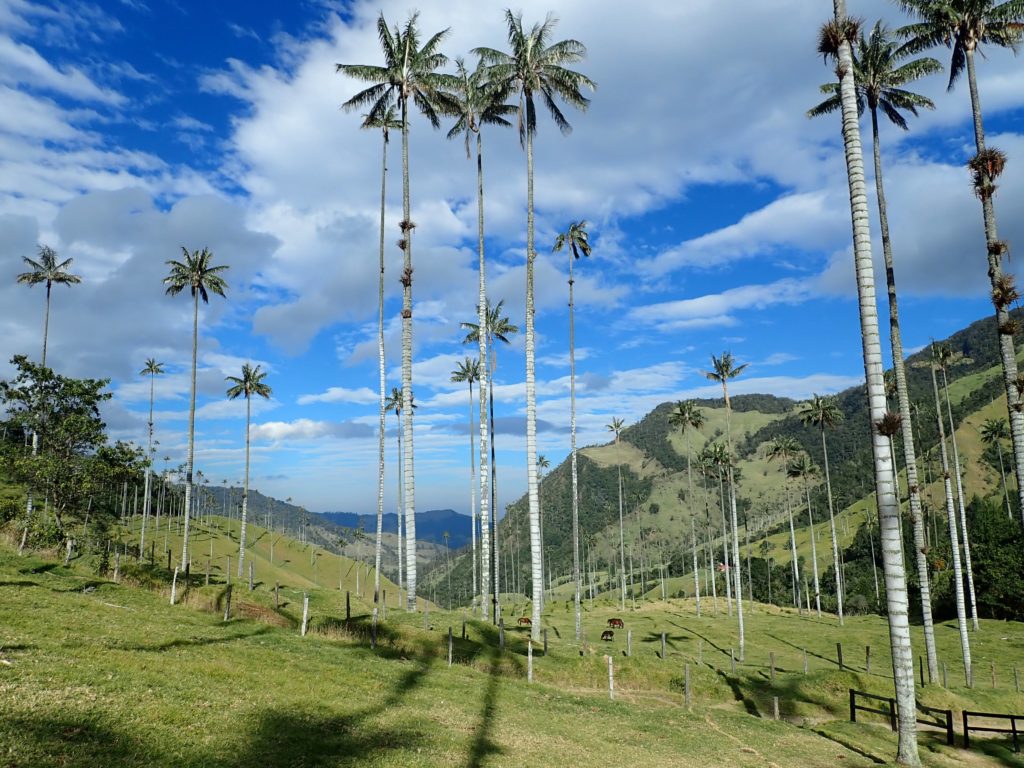 Hummingbirds' house
Once you arrive down, you're one small detour away from the hummingbirds' house. Around there, the path was not really clear anymore. It was especially difficult to find the bridge to cross the small river. But we were not the only one looking for the hummingbirds and eventually we found our way.
Once you arrive at the house, you have to pay an entrance fee which also includes a beverage. After getting your beverage, just sit on one of the benches and look at the hummingbirds going around, feeding on all the fake flowers hanged from the trees. It is amazing to see how fast they go, and really hard to take a nice picture.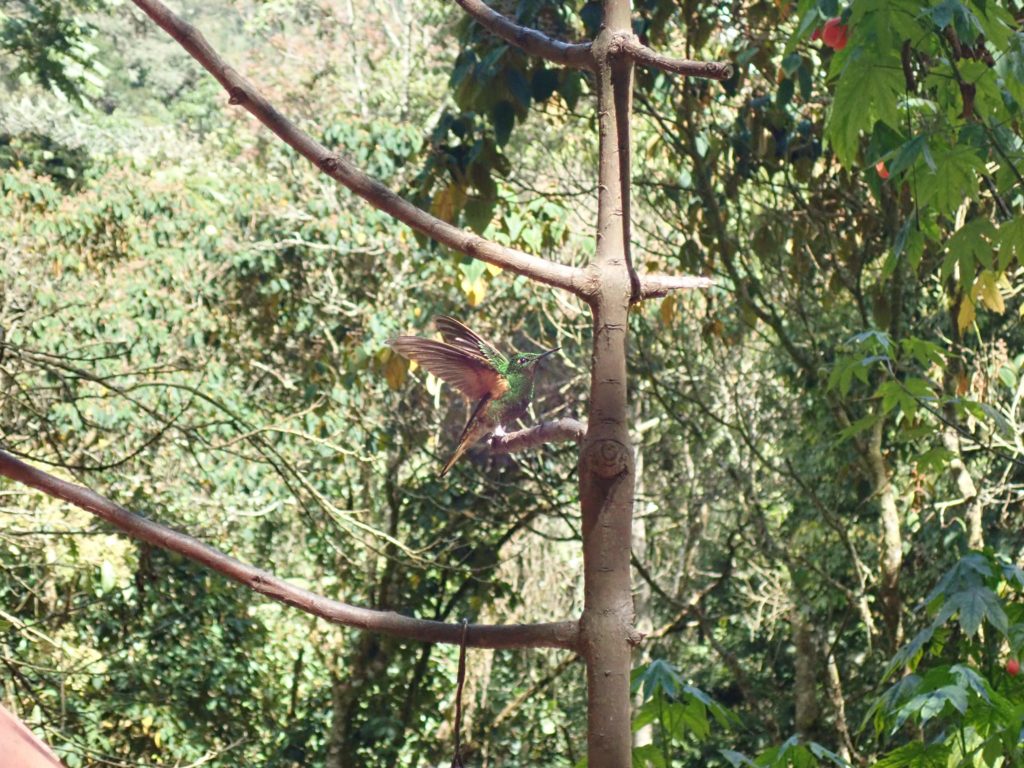 We spend half an hour looking at them before heading towards the end of our loop. For this last part, you have to cross several times a river on suspended bridges. Nothing too difficult, don't worry, we saw some seniors doing it as well. At this point, it was almost lunch time and the path started to get quite crowded. And the more we walked towards the entrance, the more crowded it became. We had planned to find a nice spot to have lunch before heading back but there were so many people that we just decided to eat later and head directly back to Salento. Even though there were a lot of people towards the end, the hike was really nice and peaceful with beautiful landscapes.
Biking in the Carbonera
We had heard there was another place were we could see much more of those amazing palm trees: la Carbonera. This place is less famous and to go there, you have to go with a private tour, but that also means less people around. It is possible to explore this place hiking or biking. Feeling adventurous, we decided to go biking!
The agency took us and the bikes up the mountain and we started biking down for 30 minutes towards the finca of La Carbonera. There, we walked for a bit among the palm trees while our guide was explaining their history and how they almost got extinct. Once we arrived at the finca, we stopped for a hot chocolate and a snack while watching some hummingbirds going around (hard to get bored of that show!).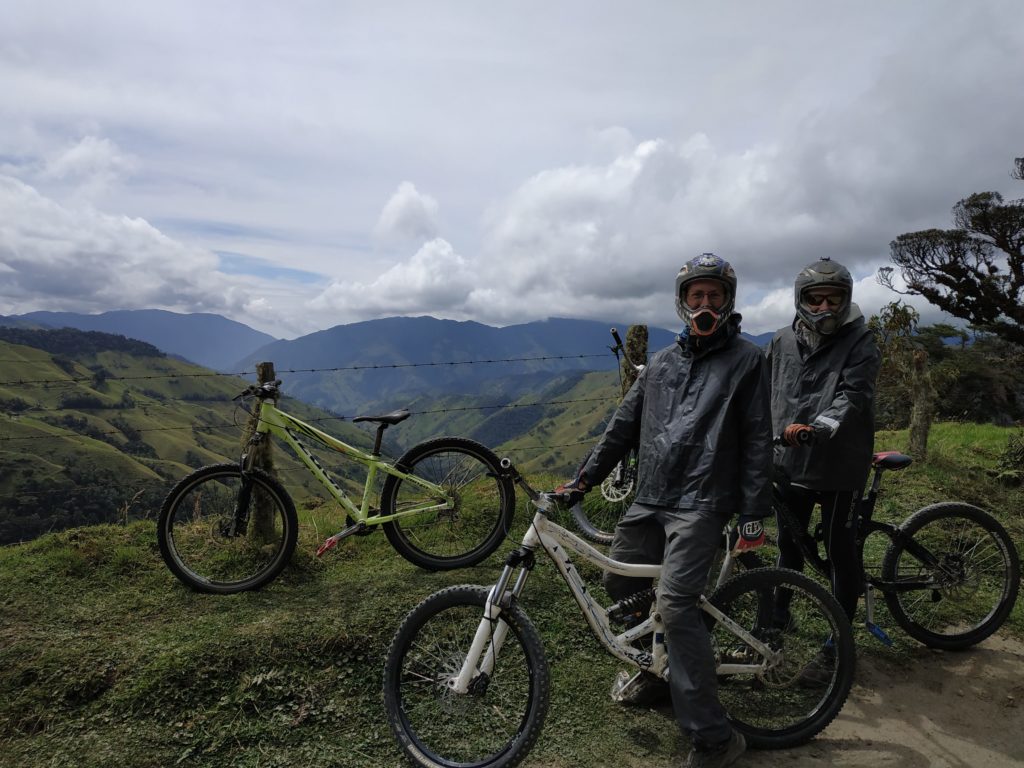 Finally, we went back on the bikes for a good 1.5 hours downhill, back to the city of Salento. You can get quite some speed while rushing down the unpaved road. Some people chose to do the extreme path but we decided that the normal path was enough for us. Caroline's fall was the proof that was the right decision. Fortunately, it was only a small fall and it didn't stop us from having a lot of fun going downhill on our bikes!
Visit a coffee plantation
As you can imagine, the "Eje cafetero" is more than nice colored town and palm trees. There are many coffee plantations in the area and a lot of them offer guided tours. Since we had already visited a coffee plantation when we did the Salkantay trek, we decided to visit only one here. We chose the Don Elias plantation, that is making coffee in a traditional and organic way. They are growing the coffee in the middle of banana trees that provide shade and water, and they don't use any kind of pesticides or industrial products. The tour was really instructive and of course, we had a coffee degustation at the end: best part of the visit for Paolo!
Play tejo
We were told that when visiting the coffee region, we shouldn't miss the most famous game of Colombia: the Tejo. There are several places where to play it, for example Los Amigos, and it is usually better and more fun to go with a group. We found two other girls to play with us and had a lot of fun!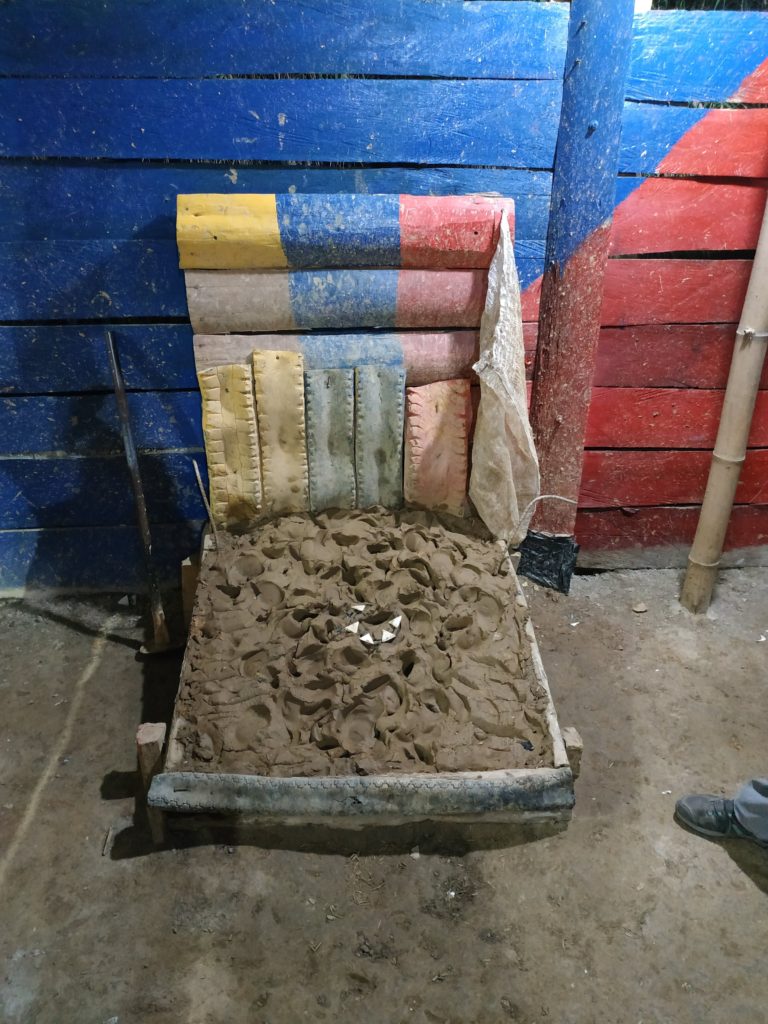 Basically the game looks like pétanque but with firecrackers. You have to throw your metal disk so that it arrives on the firecrackers making them explode. It is not so easy, but so much fun when you succeed!
The thermal waters of Santa Rosa de Cabal
A little bit further away from Salento, you can find a place with thermal water, lost in the middle of the hills. We decided to spend a morning there, to relax after our biking adventure in la Carbonera. There are several pools, all with warm water, and, next to them, a natural waterfall if you want to refresh between two warm baths. There were not so many people when we came and the atmosphere was really chilled and relaxed.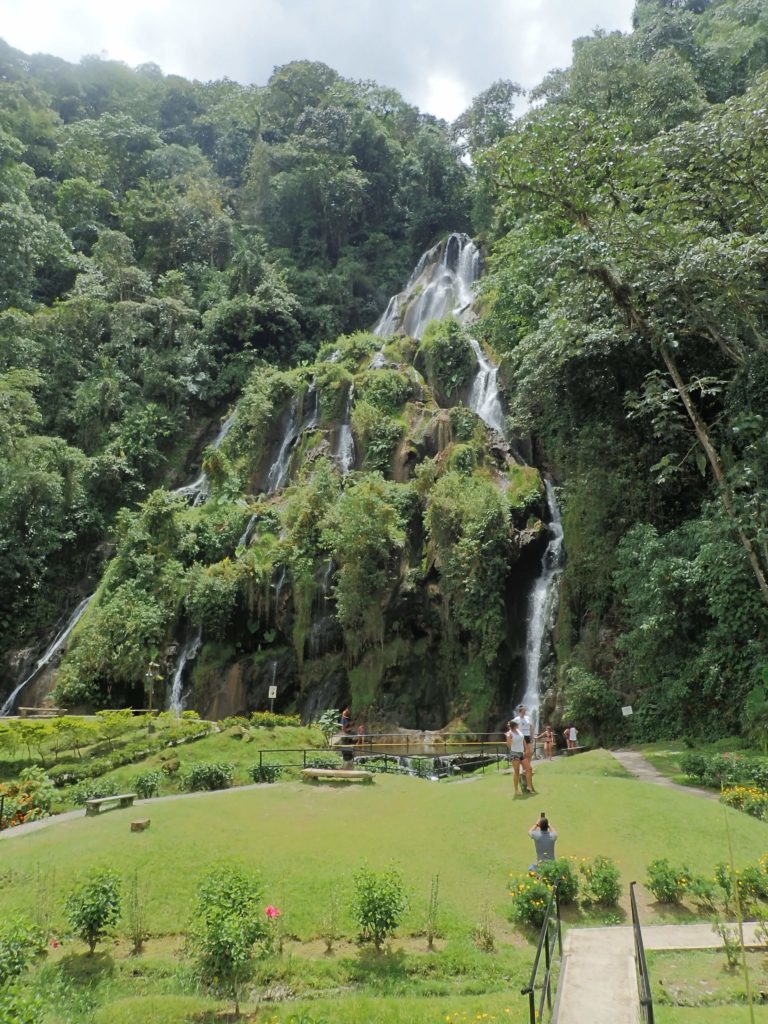 Recinto del pensamiento in Manizales
Our last excursion in the coffee region was in Manizales. While we really didn't like the city, we really enjoyed visiting the Recinto del Pensamiento. Situated in the outskirts of the city, it is open everyday and it is mandatory to visit it with a guide. Our guide showed us the botanical garden, explaining each plants and letting us try some. We tried fresh stevia for the first time! After a nice little walk uphill, we arrived at a hummingbirds' house. Our guide offered coffee while we were trying again to take nice pictures of those beautiful birds.
After passing through a Japanese area with bonsais and zen gardens, we arrived at a butterfly house. There were so many of them, elegant and beautiful, flying everywhere. We were shown how to make them come on our hands: just lick a finger and put it close to them!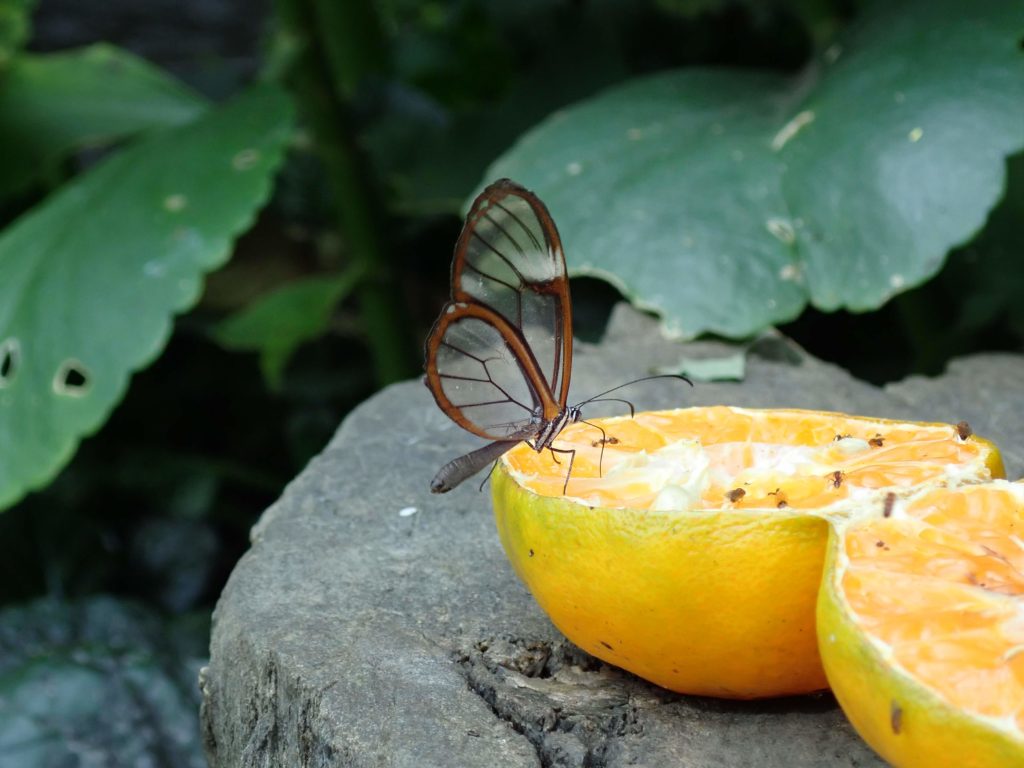 Altogether, we spent 8 days in the coffee region and tried to see as much as we could. But the region is huge and there is so much more to see! Let's not even talk about the food. We had no idea Colombian food was so yummy!
To not miss any of our adventure, subscribe to the monthly newsletter!