When we were about to leave Bogota for Cartagena we realized that the trip would have taken us 22 hours. Having some days to spare, we decided to look for an additional stop along the way. The most natural one would have been Medellin, but we would have to pass by there later to take our flight to Guatemala. We asked some help online, and some suggested San Gil. They presented it as a great place to do some extreme sports and we were immediately interested.
San Gil is a nice village among the mountains in the center of Colombia, relatively close to the border with Venezuela. The area has a rich system of rivers, canyons and woods that allows to practice a great variety of sports. It has therefore become the favorite destination for fans of extreme sports. We spent there just a couple of days and we did not have time to try all of them, but we'll try to give you a complete look nonetheless.
Rafting
With so many rivers around the village, it is of no surprise that you can do some rafting in the area. In particular, the three rivers you can go to are the Suarez, Fonce and Chicamocha. All of them can be faced without any prior experience. The Fonce and Chicamocha are easier and can be done also by kids and families. The Suarez is instead more complicated, there are rapids up to category 5, the highest. Of course that's what we chose to do, even if it was our very first experience. Instead the rapids on the other rivers do not exceed category 3.
We went with the guys of Colombia Rafting, which gave us a thorough safety course just before going in the water. We were in eight, divided equally in two rafts, one for beginners and one for the people with a little more experience. There was a guide per raft and a kayak for additional support.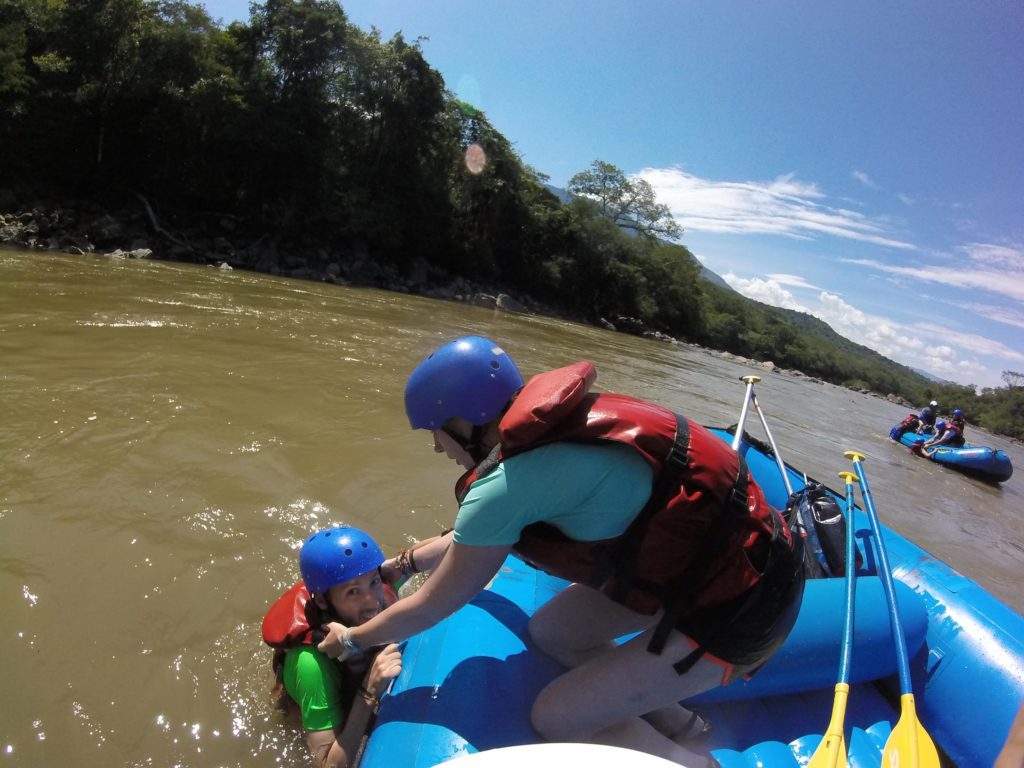 On the first, quiet part of the river we practiced the safety procedure and the commands… and then the real fun began! One rapid followed the other, with just some time to rest in between. Getting in, being splashed, and continuous paddling was incredibly fun, especially under the hot sun. In a couple of very quiet parts it is also possible to jump in the river and let it transport you peacefully. The view of the surrounding mountains during all the descent is also spectacular.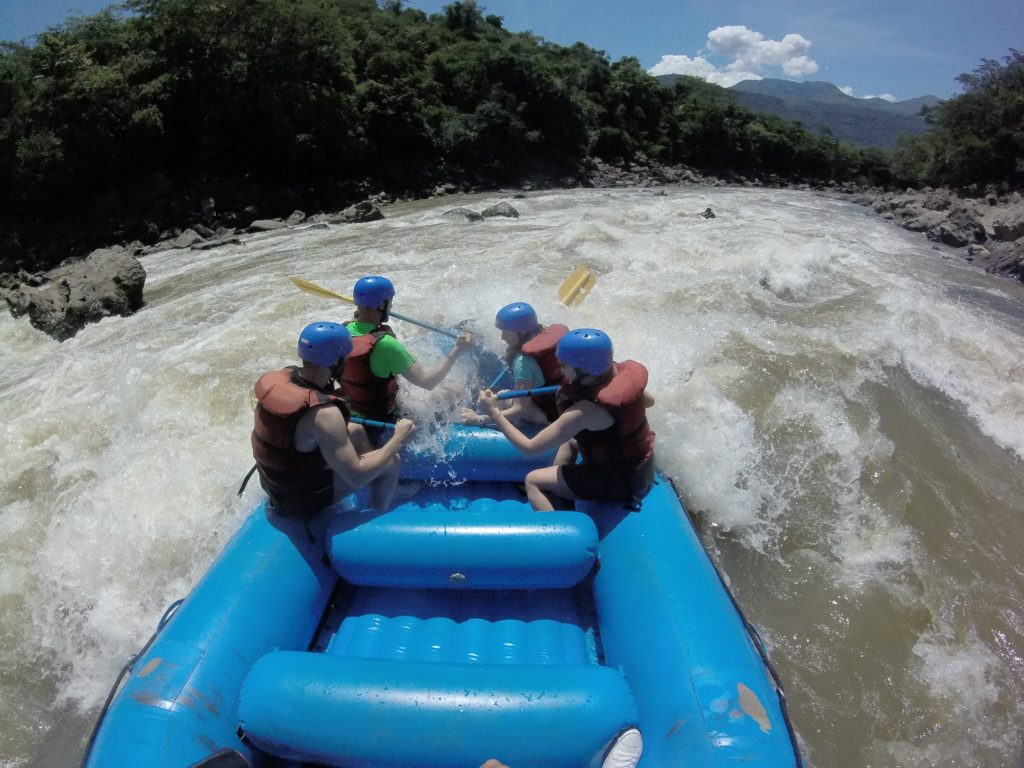 The service from Colombia Rafting was excellent. All the guides are experienced and know how to make us have fun in a safe way. It was exciting and we were never scared, not even when Paolo fell in the water and needed to be rescued by the kayak: it was actually part of the fun as well! And at the end there was a nice lunch waiting for us.
Canyoning
Apart from the wide rivers, you can also find a lot of smaller rivers around San Gil. They are passing among big rocks and jumps, perfect for canyoning. During this activity you'll follow one of these rivers, sometimes jumping in deep pools from a height, sometimes rappelling down the side (or inside!) a waterfall.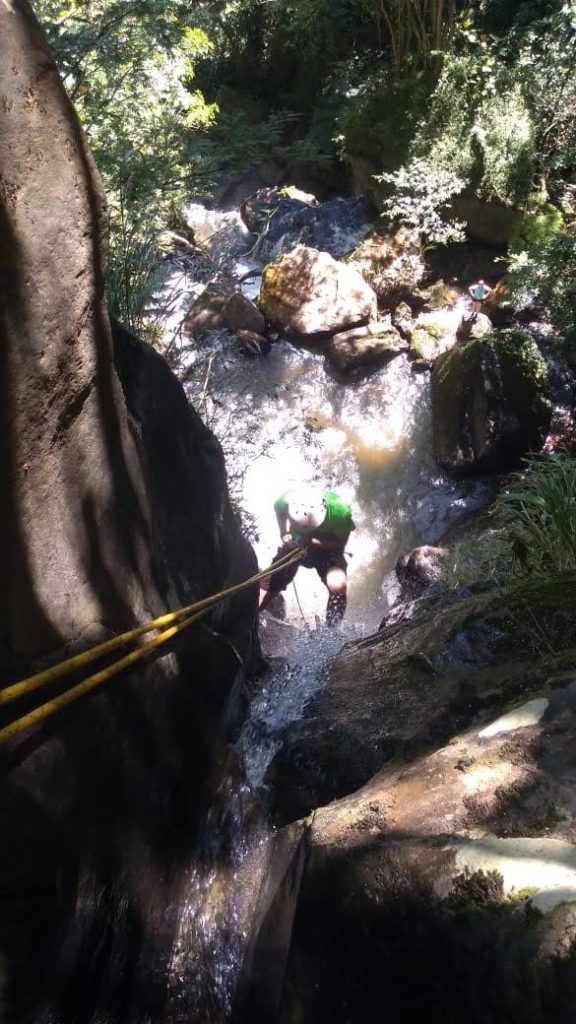 Together with Chicamocha hikes we went to the Nariz del Diablo, the devil's nose. It is a little far away from San Gil, but it's totally worth it. Us and the guide were the only people around. After ensuring our safety, we had to rappel down the side of a 40 m waterfall. The first steps are the hardest since you have to let yourself go over the edge: our hearts were pounding so fast! But it's so much fun! The second waterfall is smaller, "only" 25 m, but this time you rappel down inside the waterfall itself! The water flowing on your head makes it different and even more entertaining. And to finish: a nice jump from 3 meters into the river.
While coming back we also visited the Hoyo de los pájaros, a big vertical hole in the ground, more than 100 m deep. At dawn and dusk a lot of birds can be seen leaving and coming back to their nest inside of the cave.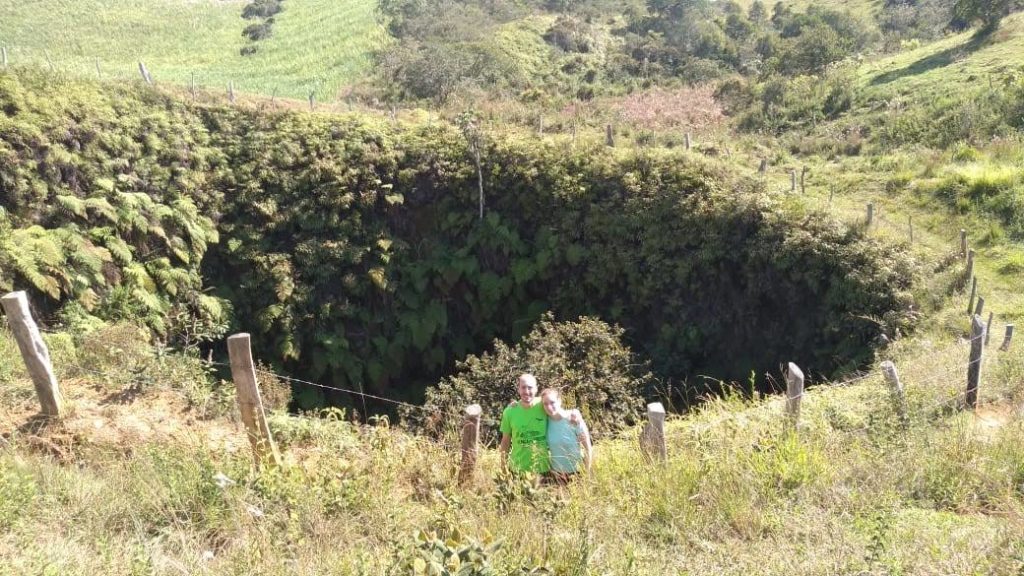 Paragliding and more
We did not have time to do it, but the other big attraction of San Gil is paragliding. This would allow you to glide over the big Chicamocha canyon and enjoy a beautiful view of the region from above. Thanks to the air currents you can soar up to 1000 m!
But there is much more to do in the area. For example you could visit Barichara, a small and beautiful village not far from San Gil. You could also take a tour on a mountain bike or just hike in the woods. No matter how you want to get active, San Gil has something for you.
To not miss any of our adventure, subscribe to the monthly newsletter!