Before adventuring south to explore Patagonia, we spent a few days in the capital of Argentina: Buenos Aires. It is a lively city with a lot of things to do and to see. It is also, and by far, the biggest city of the country: one third of the population live there, in less than 1% of the national territory. Although our stay there seemed way too short, here is our top things to do in Buenos Aires:
Visit the colorful Caminito and San Telmo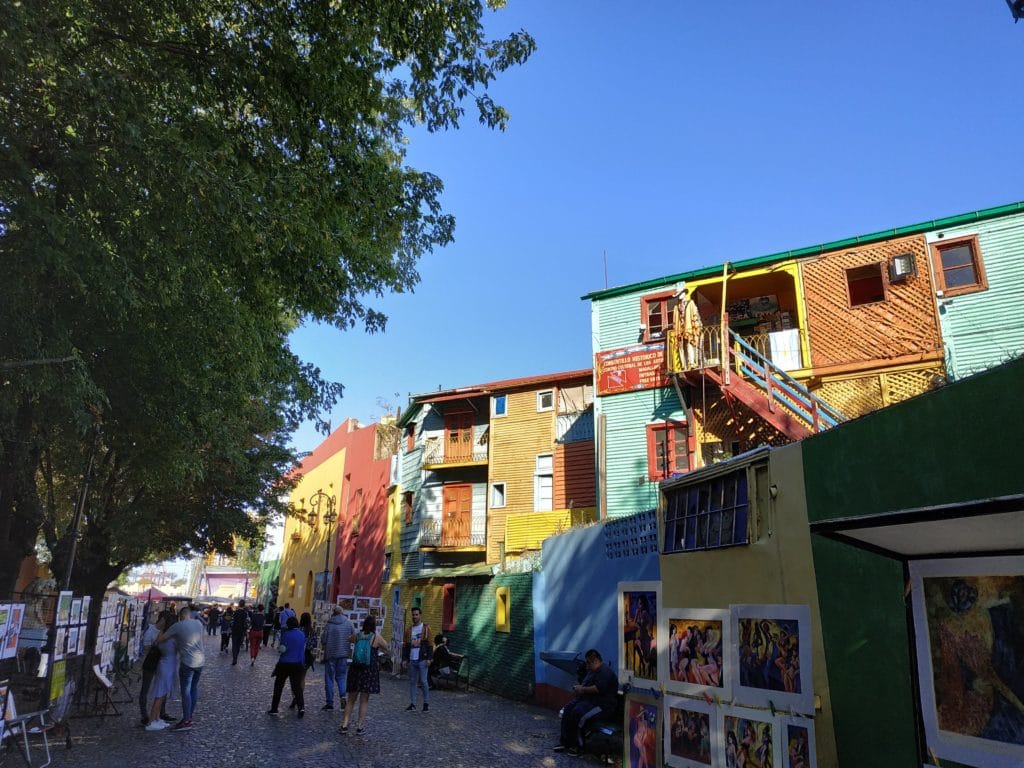 In the quarter of la Boca, you can find a neighborhood with really colorful houses called the Caminito. Although full of tourists, and touristic shops, it is still pleasant to walk around. There you find a lot of people selling their paintings and handcrafts.
The Caminito neighborhood became super colorful in the 1930's when an artist, Quinquela Martin, convinced some of his neighbors to paint the walls of the school. Since it was a poor neighborhood, they came with the paint they could find, each with a different color. They liked it so much that they decided to do the same on their houses creating the colorful street that we can visit today.
If you go there, try not to go too much out of the Caminito since the street around are not the safest, especially at night. But don't worry, inside the Caminito, is quite safe as the police is around.
For the football fans, not far from the Caminito, you can also find the stadium of the Boca Juniors team, "la Bombonera".
Walking a little bit more, you can arrive in the neighborhood of San Telmo. It is famous for the plazas full of tango dancers and its covered market: el mercado de San Telmo. There you can find food and second hand shops in an old-style space. It's also a mandatory stop for the fans of the comic Mafalda: there's an entire street dedicated to it!
Go for a walk in the Recoleta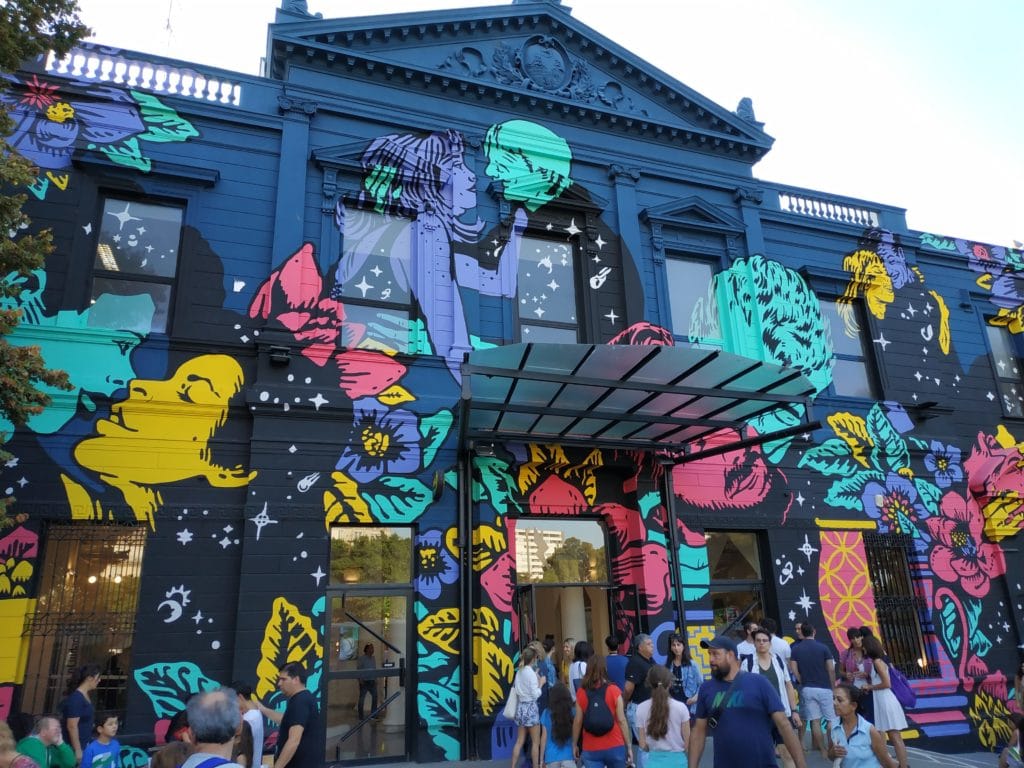 In the Recoleta neighborhood there is a really famous cemetery. Some even compare it to the cemetery of Père Lachaise in Paris. Well, it is actually smaller and less green but the family tombs and mausoleums are big and impressive. Among them, you can find the tomb of Eva Peron also known as Evita. She was the wife of Peron who was a controversed ruler in Argentina. Evita Peron was famous for doing a lot for the poor and became a symbol in the whole country. People still come and put flowers on her grave.
After the visit of the cemetery, we went around randomly and arrived in a green area in front of the centro cutural de la Recoleta. They were having a free exhibition called "Viral Mural" and all the walls of the building were covered with really nice graffiti and drawing. Even the facade! For us, street art lovers, it was quite a nice surprise!
Our hosts told us that they have a lot of nice exhibition in this centro cultural so don't hesitate to go and check it out.
Tango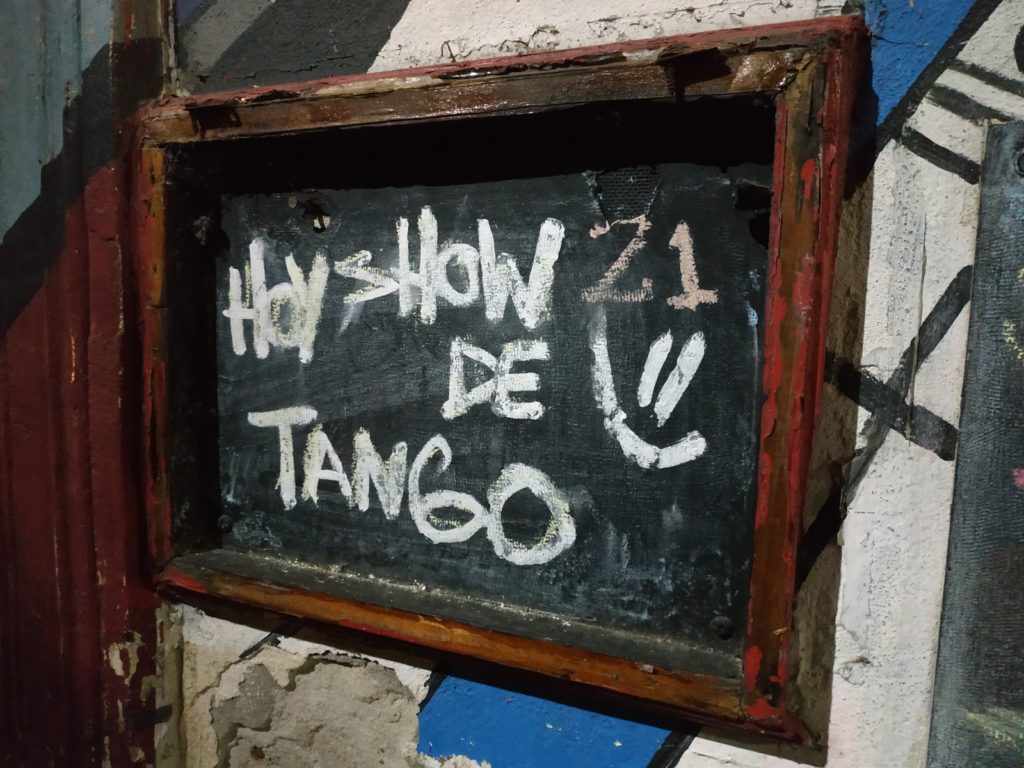 Either danced or sang, there are many ways to enjoy the tango in Buenos Aires. In a lot of places you can just watched people dancing on the street, like in plaza Dorrego in San Telmo.
Caroline, who loves dancing absolutely wanted to go to a tango class. A friend told us to join him in Villa Malcolm for a beginner's class. This place is really famous in the city if you want to learn tango. For the small price of 200 pesos you can have an hour of class. The teachers are really good but one class is clearly not enough… They also speak really good English so you have no excuses!
Right after the class, we stayed to watch the milonga. Milongas are event where people come to dance tango. They are really popular in all Argentina. Our class still fresh in our minds, we enjoyed watching all the passes and the precision of people dancing.
After that, our friend brought us to a small bar called "El Boliche de Roberto" where people were singing tango. It is a much less famous aspect of tango: no more dancing, only a man singing a melancholic song with a deep voice. He was accompanied by either a guitar or an accordion. It was hypnotic.
Even if you do not like tango, in Buenos Aires you can find a lot of bars with live music of different genres. There's something for everybody!
Buy a book at the Ateneo Grand Splendid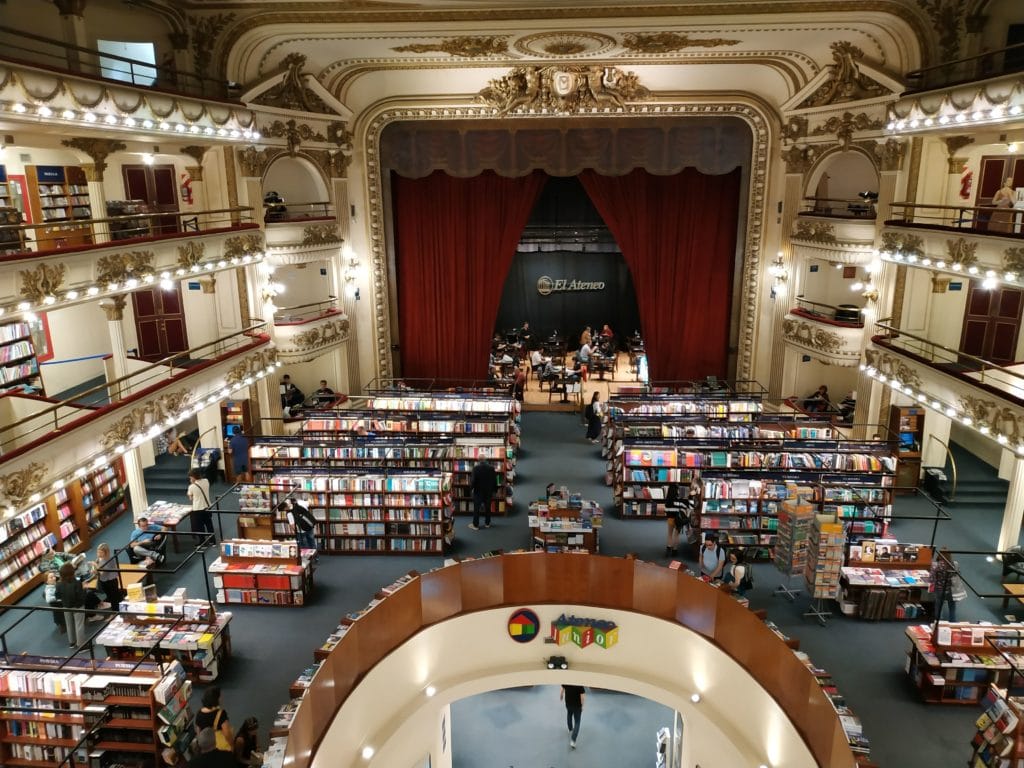 Buenos Aires has the most beautiful bookshop we have ever seen. The Ateneo Gran Splendid is placed in a former theater. At the place of the seats, you can now find alleys full of books. And where was previously the scene there is now a small cafeteria. There are still the curtains and the beautiful painting on the ceilings that keeps the atmosphere of a theater. Any book-lover would love to enter this bookshop.
Travel through art at the MALBA and the jardin Japones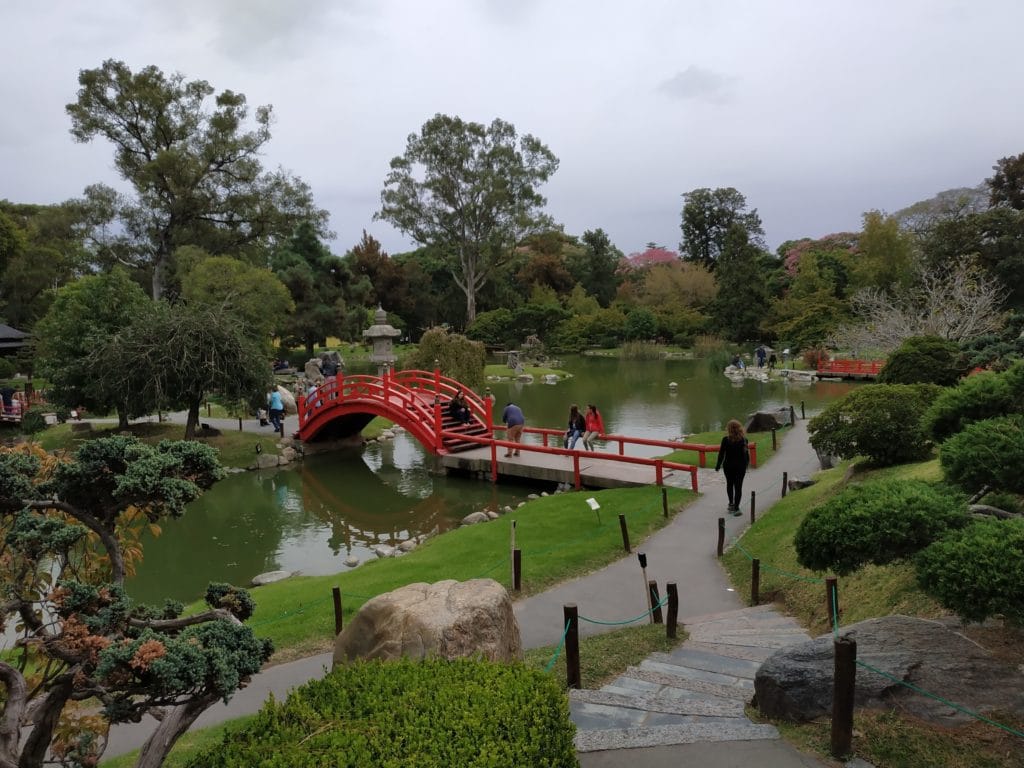 The MALBA is the first museum dedicated only to Latin American art. Here you can see art from this region of the world through history. It is a very good alternative way to travel through the contemporary history of the continent. The entrance costs 170 A$ and you can count around two hours for the visit. The permanent exhibition is divided into different sections for different periods and styles. All the information are translated also in English.
Five minutes away from the museum, you will find the jardin Japones. It is a really good reconstruction of a Japanese garden and you can enter for 150 A$. For a moment, we felt like we were in a different country. We entered in the building at the end just on time to see a demonstration on how to put a traditional wedding dress and its many layers. It looked awfully complicated…
Not far you can also find the Floralis Generica (photo on the top), a sculpture of a flower that opens every morning.
Eat a parrillada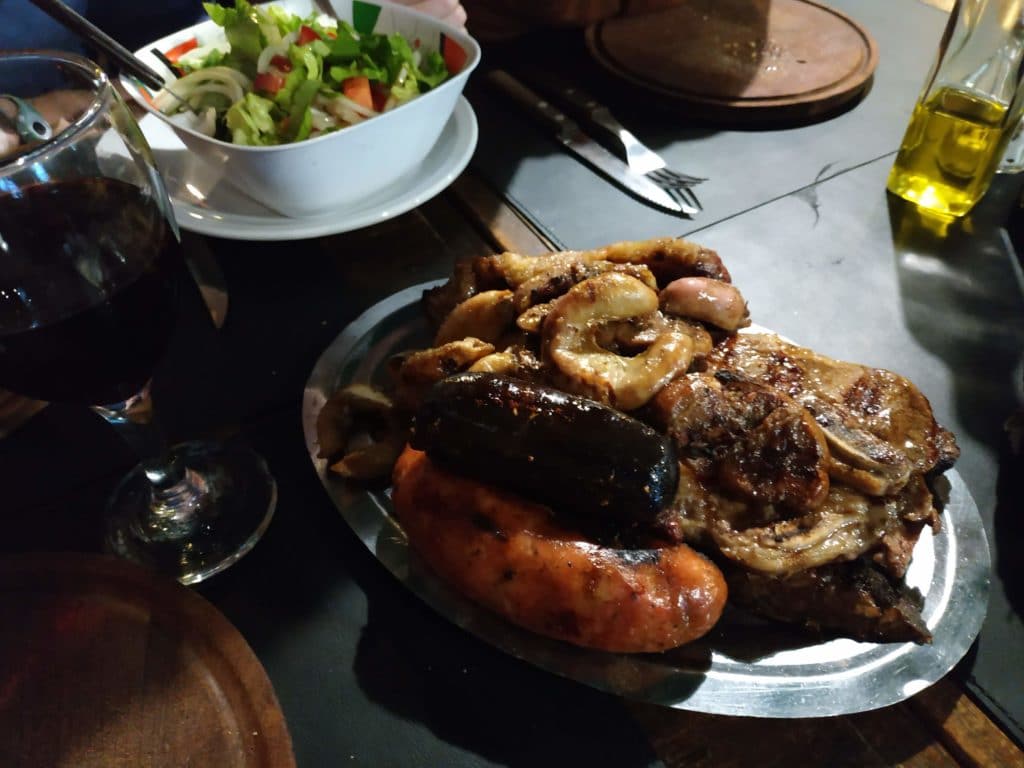 For meat lovers, Argentina is some kind of paradise. The meat is cheap and has a very good quality. In Buenos Aires, we highly recommend to go for a parrillada. It is a perfect way to have a big plate of really tasty meat. Parrilladas are spread all across the city. The porteños (people living in Buenos Aires) that we know wouldn't recommend one in particular. They just told us to look for the dirtiest ones, which are usually where you can find the tastiest meat.
Yummy !
Visit plaza de Mayo and the Casa Rosada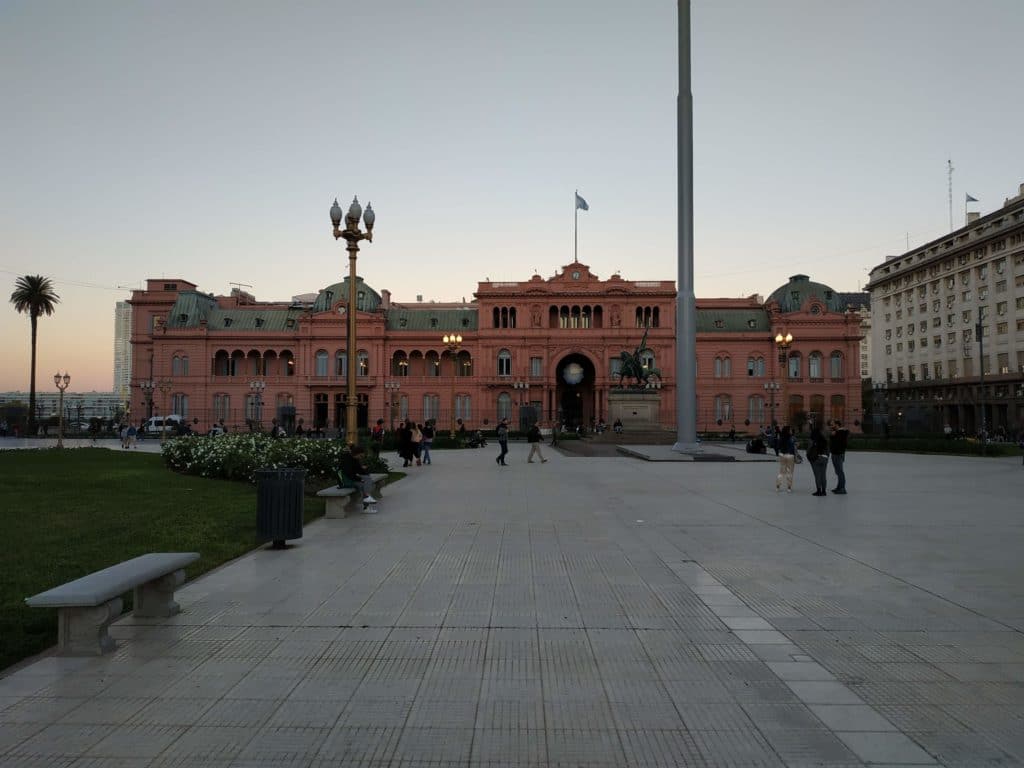 In the city center, you should absolutely not miss the famous plaza de Mayo. All year long, you can witness "las madres de la plaza de mayo". They are mothers whose children were taken during the dictatorship and that come here to ask for reparations.
On one side of the plaza de Mayo, you can see the Government's palace, also called Casa Rosada for its color. The palace was painted in red and then in light blue to please some political parties and that resulted in a pink that stayed until today.
Go for a day trip in Colonia del Sacramento, Uruguay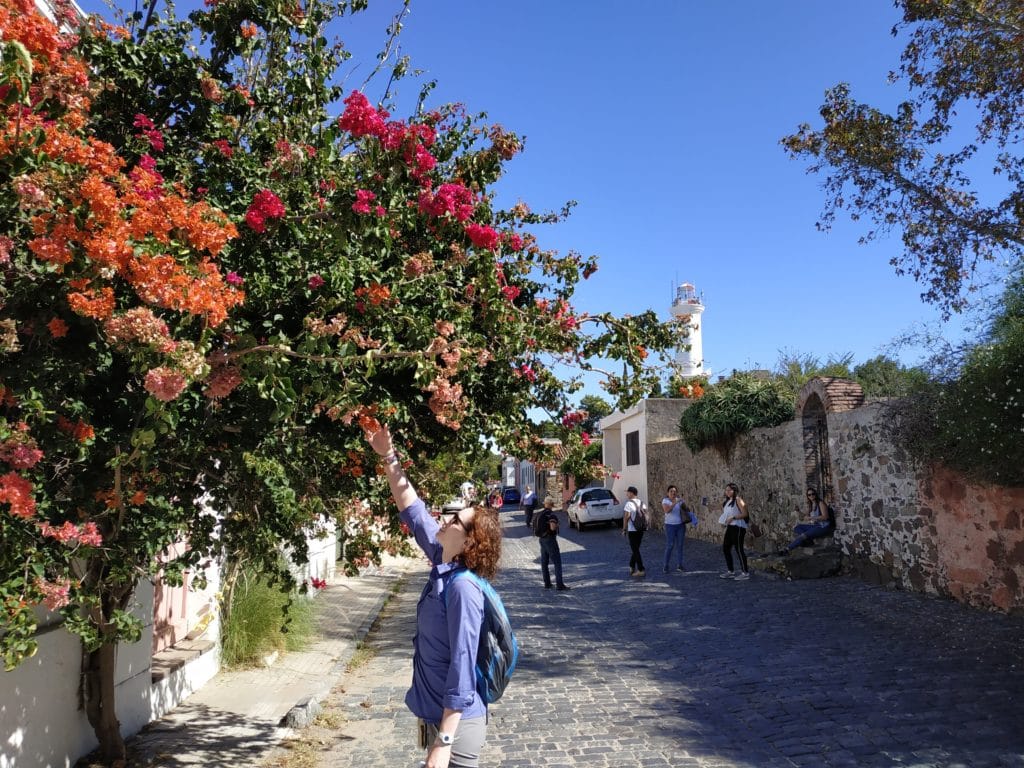 A one-hour ferry ride away from Buenos Aires there is a really nice colonial city, where the history is still very present. No kidding, we saw some people wearing clothes of the colonial time…
More seriously, Colonia del Sacramento has a nice old neighborhood and a few museums that explain the history. In a sunny day, you can enjoy the beaches along the Rio de la Plata estuary. Although we wouldn't recommend to take a swim. There is also a lot of old cars spread around the city.
Moreover, our expedition to Colonia del Sacramento was the occasion to withdraw some dollars with really low fees compared to the ones in Argentina. Once back in Argentina, it is easy to change back your dollars to pesos.
You have the choice between two companies to go to Colonia: Buquebus and Colonia Express. Although the first one is usually more expensive, we recommend to go and ask directly at the desk. We succeeded to have tickets at only 1/3 of the price that was displayed online.
Buenos Aires is a city with a lot to offer, much more than what we present here. We stayed there only a few days and we know that we will have to come back. But thanks to our super nice hosts and friends, we were able to have an amazing time in Buenos Aires.